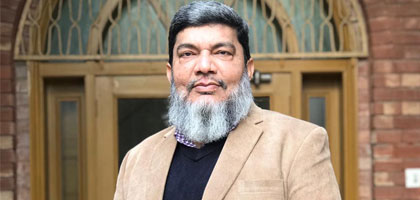 Recognition
IBA alumnus joins Pakistan Railways as Advisor/Executive Director for Business Planning
The IBA Karachi is pleased to announce that IBA alumnus, Mr. Farooq Hyder Shaikh, Class of 1993, has been appointed as the Advisor/Executive Director Business Planning for Pakistan Railways. Mr. Farooq has been selected after a stringent selection process and he has been chosen for this coveted assignment as part of Prime Minister Imran Khan's resolve to improve the performance of key national institutions.
Mr. Farooq will be primarily working with Federal Minister for Railways, Chairman of Pakistan Railways and CEO, Pakistan Railways, and assist them in reforming and restructuring the overall business model of Pakistan Railways. Commercial Team of Pakistan Team is directly reporting to him and he has already joined the organization. He will be fully involved and engaged in the execution, and he has already started taking initiatives and working closely with the Team to transform this great national asset of Pakistan.
His strong leadership and interpersonal skill have been key to his success while working with leading brands such as Merck, Danone Group, Hershey Canada, Rogers Telecom, Omstead Foods Canada, Tapal and Service Sales Corporation.