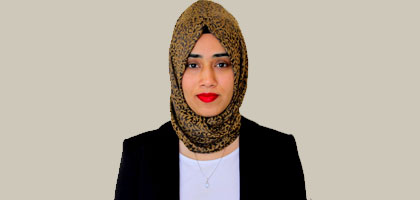 Salsabil Shaikh
IBA alumna receives her PhD from Victoria University, Australia
Dr. Salsabil Shaikh, BBA Class of 2013, has successfully completed her PhD in Business and Management from Victoria University, Melbourne, Australia. The title of the thesis is 'A critical analysis of e-waste management and recycling in Pakistan: a life cycle assessment', which can be accessed here. Her PhD was funded by the Research Training Program – RTP International scholarship.
Moreover, Dr. Shaikh has also published two journal papers as the first author in Q1 journals of high impact factors (10.204 and 7.145). The first paper titled 'A cost-benefit analysis of the downstream impacts of e-waste recycling in Pakistan', was published in the Journal of Waste Management, and her second paper titled 'An exploratory study of e-waste creation and disposal: upstream considerations', was published in the Journal of Resources, Conservation and Recycling.
The papers can be accessed on:
https://doi.org/10.1016/j.wasman.2020.08.039
https://doi.org/10.1016/j.resconrec.2019.104662
We congratulate Dr. Salsabil Shaikh on achieving this milestone and wish her good luck in future endeavors.