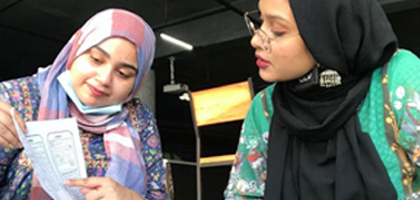 IBA students team selected as national finalists for RedBull Basement 2020
Out of 131 ideas across Pakistan, Warisha Farhat and Hira Siddiqui are proud national finalists in the RedBull Basement 2020 competition. The team is also nominated as one of the top 38 ideas from all around the world.
The team was selected by a group of Austrian judges, based on their idea of developing an application, UniThink, that digitizes the mediums of research and simultaneously provides data analysis to young researchers. The application would assist in building a community and incentivizing participants throughout the world.
The idea is currently in the development phase and the team is building a prototype of UniThink that will be presented in the international rounds of RedBull Basement, Global Workshop 2020 to be held from Dec 10-13, 2020.
Their winning pitch can be viewed here: https://basement.redbull.com/en/projects/1148