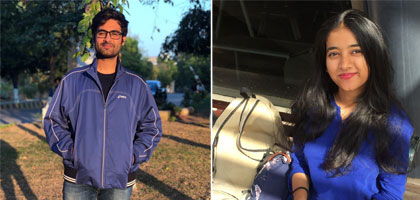 IBA students part of national winning team at P&G CEO Challenge
The IBA Karachi is pleased to announce that two of its students, Wajiha Majid and Muhammad Ayan Baig, were part of an inter-university team that were declared as national champions in the P&G CEO Challenge. The third member of the team, Muneeba Qayyum, represented LUMS.
The P&G CEO Challenge is a world-wide case competition in which university students from all disciplines collaborated and formed teams to participate and demonstrate problem-solving skills to devise business strategies for brands. Due to the pandemic, this edition of the challenge was shifted online.
The online case study for this year's challenge focused on Oral-B. The team was required to analyze a timed case study, devise a business strategy and submit two write-ups related to the sustainability of existing P&G brands. The competition was tough and 200+ teams participated from all over Pakistan. Despite this intense competition, Wajiha, Ayan and Muneeba held their nerve to secure a national victory in the challenge.
The national champions will now move forward to the IMEA regional finals to compete against the national winners from India, Saudia Arabia, Morrocco, Nigeria, Egypt, South Africa and United Arab Emirates. The winner of the IMEA regional round will then compete in the global finale to win the title of Global Winner P&G CEO Challenge 2021.