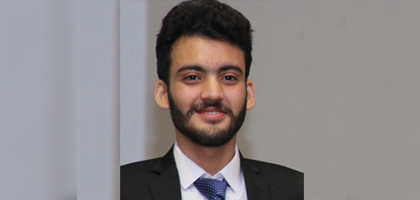 Published Works
IBA student writes on international politics
Syed Zain Abbas Rizvi is a final year BBA student. He has been a blogger and a current-affairs writer for newspapers and magazines for the past 2 years.
Two of his articles have recently been published in the Southasia Magazine.
The following are the links to the articles:
Nagorno-Karabakh War: http://www.southasia.com.pk/2020/10/06/nagorno-karabakh-war/
The article focuses on the backdrop of the current tensions prevailing between the two European nations and what could be the augmented consequences if the conflict transitions into a full-fledged war over time.
Change of Course: http://www.southasia.com.pk/2020/11/11/change-of-course/
The article discusses the complex relations of the United States and Islamic Republic of Iran in the light of changes in world politics; facets including an end to the Nuclear Deal of 2015, the ever-exceeding sanctions over Iran and the possibility of a perpetual change following the turnout of the US presidential elections.
---
Syed Zain Abbas Rizvi is a final year BBA student. He has been a blogger and a current-affairs writer for newspapers and magazines for the past 2 years. Recently, one of his articles was published in the Southasia Magazine. The article revolved around the repercussions of the Brexit Deal on the UK, the European union and the world in entirety