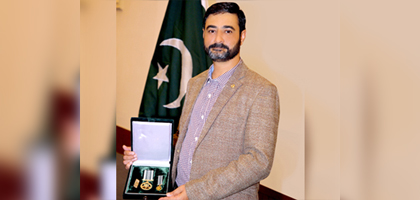 Salman Ahmed
PGD Scholar awarded Tamgha-e-Imtiaz
The Center for Executive Education (CEE) at IBA Karachi is extremely proud to announce that the Government of Pakistan has bestowed a Tamgha-i-Imtiaz (Award of Excellence) to Salman Ahmad, who is presently enrolled in a Post-Graduate Diploma in Supply Chain Management.
On his landmark achievements with devotion to cause and dedicated professional services, Salman was conferred with this title on the August 14, 2020 and the award ceremony took place recently on September 6, 2020.
Salman Ahmad is an experienced supply chain professional, employed in the government sector for the past 23 years. He is a highly skilled and successful professional with comprehensive experience of supply chain operations, procurement, warehouse management, materials management, transport, and distribution networking. He held various supply chain positions in reputable government departments and has successfully accomplished several logistic projects till date. Besides domestic employment, Salman has served in various renowned international organizations abroad with sheer dedication and professionalism.
His value-added contribution and tremendous performance in United Nations Logistic Base Entebbe, and International Security Assistance Force, Logistic Hub Kabul as Logistic officer, not only turned a difficult project into success but also printed a positive image of the country.