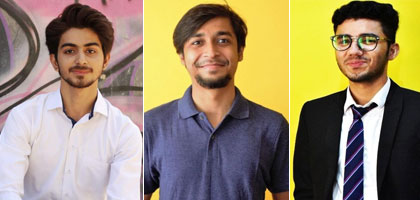 Recognition
Runners-up – Microsoft Imagine Cup 2021
The IBA Karachi is proud to announce that its students, Ali Mardan (BS Economics), Syed Ali Ahmed (BBA) and Bilawal Ali (BS CS), made it to the national finals and were declared the runners-up for South Region Pakistan for Microsoft Imagine Cup 2021. They overcame intense competition from more than 650 teams during the tournament and were also awarded with a cash prize from the HEC and Microsoft.
The Imagine Cup is an annual competition sponsored and hosted by Microsoft Corp. which brings together student developers from across the globe to help resolve some of the world's toughest challenges. The students make an impact through coding, collaboration, and competition, while networking with professionals.