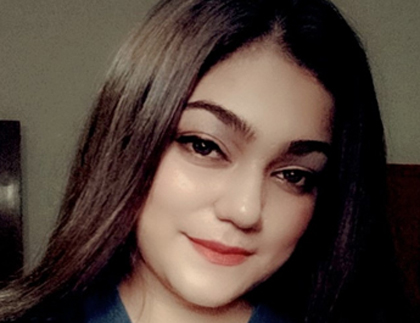 Maham Wajahat is a sophomore pursuing a bachelor's degree in computer science. She is doing her majors in data sciences and data analytics (pursuing online from Johns Hopkins University), with a minor in marketing, marketing analytics, business intelligence and business analytics.
Currently, she is a digital marketer at the Mummy Club (an online community for mothers) and a content developer and researcher at the Learning Pitch, where her researches focus on data science, artificial intelligence and machine learning. Recently, she got selected in the summer internship program of Folio 3, an IT firm based in US, where she is working on different programming languages.
During her freshman year, she worked as a data engineer at 'Love for Data' and ecommerce and digital marketing intern at Nutrilov Private Limited. She has served as a marketing person and digital marketer at an educational agency based in Florida, USA. Maham has worked as an ambassador for the Women's Journal Pakistan, business development intern at Beacon House Regional South office.
Soon after she started her journey at IBA, Maham got affiliated with The Citizens Foundation alumni development program (IBA chapter) and went on to become the assistant team lead of TCF ADP ambassadors at the university. She has also worked with the Tears to Cheers Foundation Pakistan.
Maham was also an Executive Council Member in IBA Entrepreneurship Society and intends to launch IBA Women Empowerment Society. Her upcoming projects planned with Assistant Professor Dr. Nida Aslam Khan include a publication on Effects of Covid-19 on logistics companies. She is also working on starting her own marketing agency, with the plan to introduce a unique digital payment system in Pakistan to make both local and international transactions easy.