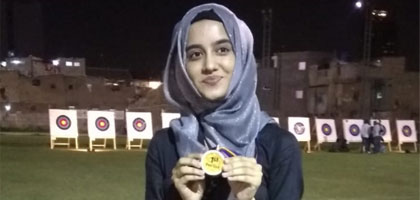 Recognition
Gold-medal winner of Pakistan Day Archery Championship 2021
The IBA Karachi is pleased to announce that Maham Shabbir, member of the IBA Girls Archery Team, won the gold medal in the girls 18m category at the recently concluded Pakistan Day Archery Championship 2021, hosted by Nadi Al-Burhani Club in collaboration with Sindh Archery Association.
200+ junior and senior archers took part in the Championship and competed in various categories: 10m, 18m, and 40m. Each category had 12 rounds in total, with each competitor having 3 arrows to gain the maximum points in 3 rounds.
The individual matches were based on an elimination round where the participants who lost their round got eliminated and the winner advanced to the next phase, until two athletes remained to contest the final gold-medal match.
The top three scorers in each category were awarded gold, silver and bronze medals.
Pakistan Women's Cricket Team Captain Javeria Khan graced the ceremony as chief guest.