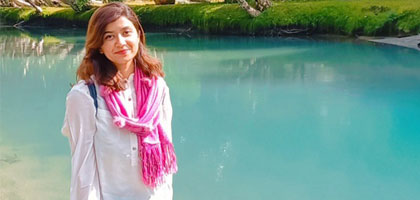 Research Presentation
IBA student delivers a research presentation as part of a research project at KUL
MS Development Studies student and Research Associate at the Karachi Urban Lab (KUL), Duaa Sohail, recently presented at an online conference organized by the globally prestigious organization, the Regional Studies Association (RSA). Ms. Sohail presented on the role that welfare organizations have played in mitigating the impacts of Covid-19 in Karachi's low-income communities, her presentation was titled 'Mitigating the Impacts of Covid-19 in South Asia: Non-State/Informal Mechanisms of Community Welfare Provision in Karachi'. The panel was titled 'Mitigating Covid-19 in Urban Asia: Insights from South and Southeast Asian Megacities on Disaster Governance and Recovery'.
The panel was chaired by Dr. Redento B. Recio, Post-Doctoral Research Fellow, Informal Urbanism Research Hub, University of Melbourne, Australia. Ms. Sohail's research at the KUL is ongoing and the findings will either be published in an edited collaborative book project or in a journal's special issue forthcoming in 2023.
Dr. Nausheen H. Anwar, Professor of City & Regional Planning, Department of Social Sciences and Liberal Arts, School of Economics & Social Sciences, IBA, and Director KUL; Dr. Noman Ahmed, Professor of Urban Planning, Chairman NED University, and Co-Director KUL; and Duaa Sohail, Research Associate KUL are part of this collaborative project. KUL has been awarded the Policy Expo Funding by the RSA for the project 'Tackling a global pandemic in Asian Megacities: Uneven vulnerabilities, State responses, and grassroot practices'.
The research is focusing on covid-19 recovery measures undertaken by state and city level crisis management processes. The study is focusing on the role played by the welfare organizations to provide food security and improving the livelihood of the urban informal workers who became the most vulnerable groups affected due to the pandemic. The project aims to evaluate the gaps in the existing governing policies and recommend policy measures that will mitigate the future shocks of the pandemic by addressing the specific vulnerabilities of the marginalized urban poor of the city.
Details about RSA and the Regions in Recovery 2022 conference can be accessed here.