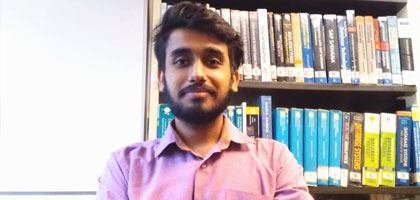 Published Works
IBA student reviews a book on Sufi saint Shahbaz Qalandar
Ali Jan Damani's latest publication is a book review titled, Remembering Shahbaz: A critical review of "Artefacts of Devotion: A Sufi Repertoire of the Qalandariyya in Sehwan Sharif, Sindh, Pakistan", published by the Ancient Asia Journal.
A renowned Sufi, Shahbaz Qalandar, whose shrine is in Sehwan Sharif has attracted numerous orientalists. Paying tribute to the Sufi saint, French scholar, Michel Boivin penned a book titled, "Artefacts of Devotion: A Sufi Repertoire of the Qalandariyya in Sehwan Sharif, Sindh, Pakistan". The book emphasizes the link between the Qalandariyya doctrine and the local and regional culture. It highlights how the flexibility of local discourse permits the Qalandariyya to mold local society, while also allowing it to reinterpret it in a regional context. Damani has critically reviewed Boivin's work, evaluating its academic strengths and weaknesses. The book review can be viewed at: http://doi.org/10.5334/aa.221
---
Published Works
IBA student transliterates poetic work of Pīr Shams
Ali Jan Damani, has recently transliterated an unpublished poetic work composed in śloka style attributed to an Ismāʿīlī-Ṣūfī dignitary, Pīr Shams (d. 1356), who is enshrined in present-day Multan, Pakistan.
Etymologically speaking, the word Saloko comes from the Sanskrit root, śloka, roughly meaning hymn or prayer. Thought of as a poetic form used predominantly in Sanskrit, śloka is considered as the Indian verse par excellence. Even for those Ṣūfīs who composed mainly in the vernaculars of South Asia, śloka was not a preferred poetic mode of expression. This composition by Pīr Shams is entitled Satgur Jo Saloko (Hymns of the true guide) and is 700 verses long, making it the largest known composition in the śloka style by any Muslim saintly figure. The original manuscript from which the transliteration has been made is housed at Harvard. The significance of Damani's contribution is that it will aid scholars from diverse fields including, Ṣūfī, Ismāʿīlī, Gujarati and Islamic studies to understand the complexity of the Indo-Muslim traditions. The transliteration can be found at: https://ginans.usask.ca/commons/contents.php?id=20603
---
Recognition
IBA student to present his paper at upcoming international conference
The IBA Karachi is pleased to announce that Ali Jan Damani, Social Sciences and Liberal Arts, Class of 2022, has been invited to present a paper at an international conference on 'Scripts in Asia: c. 1500–2000' being organized by the Asian Centre, University of Philippines.
The two-day conference will take place from April 27 to 28, 2021. He will present his paper titled, 'Whose decline? Not Khojkī's. Rethinking Khojkī's Decline: Evidence of Continued Use of Khojkī Script in Sindh, Pakistan'. The abstract of his paper can be viewed here.
Click here to know the details of the conference.
---
Published Works
IBA student translates unpublished Fateh Ali Shah Ginān text into English
Ali Jan S. Damani, through his tireless efforts of transliterating an unpublished Ginān text into English, has made a pioneering contribution to the field of scholarly attention given to Ismāʿīlī Gināns.
In his most recent achievement, Damani has worked on an unpublished ginān, which appears in a Khojkī manuscript housed at Houston library, Harvard University. The manuscript dates back to 18th and 19th centuries. The significance of Ali Jan's contribution is unique because it is the transliteration of a Ginān attributed to Sayyid Fatḥ ʿAlī Shāh, who was quite active in propagating Ismāʿīlī form of Islam in Sindh. Thus, a critical reading of this Ginān will add to the broader understanding of the scholars about the teachings that the Ismāʿīlī Pīrs conveyed to their audiences during their daʿwa in the South Asian regions.
For more information: https://ginans.usask.ca/commons/506960
---
Published Works
IBA student publishes English transliteration of an Ismaili Ginanic text
Preparing a critical edition of a polyglottic religious text is a complex scholarly task. Ali Jan S. Damani has prepared a critical edition of such a text, named, Manhar, attributed to Syed Ghulam Ali Shah (d. 1792), a well-known ginān composer and Ismaili missionary who was active in the regions of Sindh, Kuttch, Kathiawar during the 18th century. What makes this project unique is the fact that Manhar has not yet been approached by any scholar in any manner. In fact, hardly a few lithographed copies of the text have survived up to date. Therefore, the fundamental challenge was to produce an English transliteration from the khojkī version, which is now available at: (http://ginans.usask.ca/commons/520540), that could be used to prepare a critical edition.
Scarcely a few ginānic compositions have been critically edited using manuscript sources. Alijan S. Damani's work thus contributes to the emerging field of ginānic studies. The final volume containing the history, English transliteration and translation, critically edited text of Manhar will be published in near future. The gist of this 56-verse long mystical text can be found in the closing lines of the opening verse which read:
[Allah!] Only you are my true [Lord]!
Those who chant Allah! Allah!
And remember [Prophet] Muhammad's name [in the heart]
Those who cast their vision upon Manhar
[All such believers shall] attain the eternal abode.
---
Published Works
IBA student reviews book on Ismā'īlī traditions across South Asian regions.
Ali Jan S. Damani latest publication is a review of a book entitled "The Ismaili Movement in Sindh, Multan and Gujrat". The book is written by Dr. Ghulam Ali Allana, an undisputed authority on Sindhi language and literature.
Ali Jan is currently working to produce the Khojkī script tutorials which are expected to be completed before the end of this year. His other projects include but are not limited to: A critical edition of a unique Ismāʿīlī Ginān, named Manhar; translation of Man Samjāṇī (a ginān) of Pir Shams; life, history and works of Saiyyada Imām Begum; cataloguing of khojkī manuscripts; and, unearthing unpublished ginānic texts from manuscript sources.
The book review has been published by Ancient Asia (https://www.ancient-asia-journal.com/) and can be viewed at: http://doi.org/10.5334/aa.199
---
Ali Jan S. Damani
Department of Social Sciences and Liberal Arts
Class of 2022
Ali Jan S. Damani is interested in the spread of Islam in the South Asian regions. The 'Ginān' literature and the 'Khojkī' script are of special interest to him. He is currently working with Juan Bruce to produce an open source font, which has been commissioned by Google. He is also working on professional tutorials of the 'Khojkī' script. His first academic publication is expected to appear next year.
Speaking about Ali Jan, Juan Bruce writes:
"When designing a Khojki font for Google's Noto Project, I sought the advice of respected scholars to help me with my research. I was re-directed by one of them to Ali Jan Damani who happened to know quite a lot about the issues I have been trying to solve. In order to make a responsible font in terms of history and functionality, one needs to dig into the past of the script and Ali Jan was extremely helpful in clearing some very difficult inconsistencies. He provided manuscripts and faithful sources of information that allowed me to take much more informed decisions on the operational aspects of this extinct script and he did this voluntarily in a very generous manner."
Ali Jan gives credit of all his achievements to his professors, parents and well-wishers. He is inspired by the teaching and academic works of Dr. Ali G. Siddiqui. His passion is Islamic studies with a focus on Ismāʿīlī studies, for which he has ascertained to dedicate his entire life.