SAPM Dr. Moeed Yusuf discusses Pakistan's narrative on national security at IBA Karachi
October 20, 2020: The Special Assistant to the Prime Minister (SAPM) on National Security Division and Strategic Policy Planning, Dr. Moeed Yusuf, delivered a lecture on 'Pakistan's Narrative on National Security, Challenges and Way Forward' at the Institute of Business Administration (IBA), Karachi.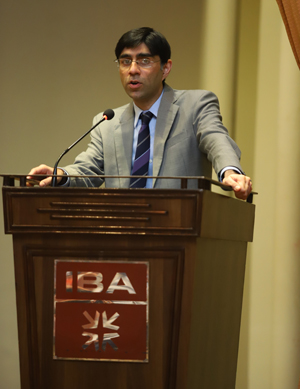 The SAPM also engaged in an interactive conversation with the students and the faculty members. Welcoming the SAPM, the Executive Director, IBA Karachi, Dr. S Akbar Zaidi urged Dr. Yusuf to enlighten the students on the relationship between economics and the state's national security. Stressing on its importance, Dr. Yusuf said his number one goal at present is to inculcate and internalize an economic security conversation in Pakistan.
Dr. Yusuf expressed his reservations of the public sector being almost 50 years behind in terms of technology and the future of Pakistan, which is the youth.
"Pakistan or any country and the young citizen of the state must be on the same side to move the country forward," the SAPM said, adding that the one thing he has noticed during his time in the office is that there is apathy for the state when it comes to young minds. He further said that with this mental state there is no possibility for the state and the youth to move forward as partners.
Urging for improved and better communication between the government and the youth, the SAPM added that this apathy is a function of lack of communication and not due to something the state has done.
Referring to Pakistan's key security issues, the SAPM remarked that there is no terrorist incident in Pakistan today that does not have India's fingerprints all over it. "So, sitting in my position I have got to have my eye on the ball every single day," he added.
The lecture was followed by a question and answer session, where the students quizzed the SAPM on Pakistan's role in regional peace. The ED presented Dr. Yusuf with a memento at the end of the session and thanked him for interacting with the students and faculty members.