New BoG members join IBA Karachi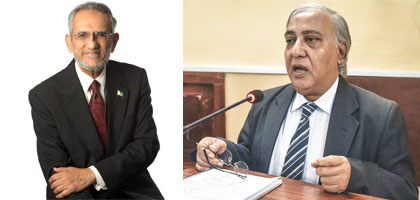 Appointment
IBA Karachi welcomes new members of the Board of Governors
The IBA Karachi is pleased to announce that the Honorable Chief Minister of Sindh and Patron IBA, Syed Murad Ali Shah has nominated Dr. Syed Jaffar Ahmed, and Mr. Mushtaq Chhapra to the IBA Board of Governors (BoG) against the vacant positions for prominent educationist and prominent citizen respectively.
Dr. Syed Jaffar Ahmed holds a PhD from Cambridge University and is a renowned Pakistani academic and political scientist. Dr. Jaffar has more than four decades of academic, research and administrative experience and is currently serving as Dean of a university and as Director, Institute of Historical and Social Research (IHSR).
Mr. Mushtaq Chhapra, a prominent businessman and philanthropist, has been contributing tremendously towards the welfare of the society since many years. Mr. Chhapra was one of the founders of the non-profit organization, The Kidney Centre, which provides free or subsidized kidney treatments for the disadvantaged. He also established the Patients Aid Foundation at the JPMC Karachi and is currently serving as its Chairman, Executive Committee. On the educational front, he co-founded The Citizens Foundation (TCF), a non-profit initiative to provide quality primary and secondary education to the disadvantaged. TCF started with five schools in Karachi and has now expanded as the largest privately owned, low-cost schooling system in the world. Mr. Chhapra was also conferred with the "Sitara e Imtiaz" in 2017 by the President of Pakistan.
The IBA Karachi welcomes the newly appointed BoG members and wishes them success in their new roles.