IBA Karachi and Tapal hosted a session to strengthen industry-academia linkages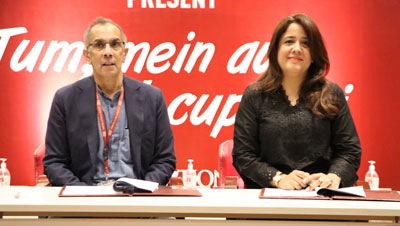 October 27, 2022: The Institute of Business Administration (IBA), Karachi, and Tapal hosted their first session of a series called 'Tum, main aur aik cup chai'. With an objective to strengthen industry-academia linkages both institutions have agreed to set up these sessions on a regular basis. The event encapsulated insightful discussions with three guests who represented the FMCG and Tech industries. The guests included Mr. Samar Hayat, CEO Tapal Tea; Mr. Ali Ahmed Khan, MD Friesland Campina; and Ms. Ammara Masood, President & CEO NdcTech. Dr. S Akbar Zaidi, Executive Director IBA welcomed the guests.
The idea behind this initiative was to showcase Pakistan's diverse excellence to the wider audience and help students, staff, faculty, alumni, and external guests to learn from the experiences of these guests. The session was attended by more than two hundred people and was moderated by Ms. Malahat Awan, Director Alumni Affairs, Resource Mobilization and Corporate Relations. The interactive session was followed by a Q&A session.
In addition to thesession, Tapal and IBA also signed an MoU and have agreed to set up an endowed fund for IBA's deserving students. Dr. Zaidi and Ms. Amra Mubashir, GM Human Resources Tapal, signed the MoU on behalf of their respective institutions. On the occasion, Dr. Zaidi said, "IBA is a breeding ground for talented students coming from diverse backgrounds, belonging to different socio-economic strata. The policy of diversity and inclusivity and the provision of financial support plays a crucial role in creating such an environment."