IBA hosts globally recognized event Flutter Flash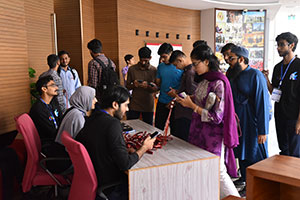 September 24-25, 2022: IBA's Google Developer Student Club partnered with GDG Kolachi to host the globally recognized event, Flutter Flash. Visiting faculty, Mr. Waleed Arshad, School of Mathematics and Computer Science (SMCS), led the event.
The first day consisted of back-to-back speaker sessions offering key insights on app development using Flutter technologies and lessons by multiple industry professionals leading the Flutter community, including Waleed Arshad, Qaim Hassan, Muhammad Hamza, Usama Qareem, Burhan Khanzada and Muhammad Salman.
The second day featured a Flutter Hackathon for 64 shortlisted candidates, consisting of three rounds of fast-paced coding. The competition was assessed by Flutter experts and guest judges including Taha Ali, Sakina Abbas, and Rao Noman.
Flutter Flash gained massive success in all aspects, and the two days of Flutter-filled conferences, hackathons, and speaker sessions proved to be a great learning experience for the participants.