IBA China Study Centre hosts G3 CPEC Summit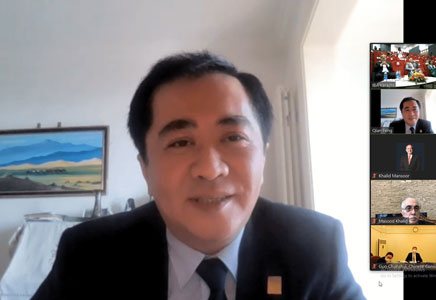 October 23, 2021: The China Study Centre (CSC) at the Institute of Business Administration (IBA) Karachi hosted a day-long summit titled, 'CPEC: Emerging Geopolitical and Geo-Economic Landscape Opportunities and Challenges' at the IBA City Campus. Attendees included policymakers, opinion builders, academia, media, members of the IBA faculty, staff and students.
The aim of the hybrid Summit was to explore and identify the future opportunities and challenges for China, Pakistan and Afghanistan economic, information and trade corridor in the wake of recent developments in the region, specifically the U.S. withdrawal from Afghanistan and the role of the new Afghan government in regional connectivity.
Dr. Wajid Hussain Rizvi, Dean, School of Business Studies at the IBA Karachi delivered the welcome address virtually.
Dr. Nasir A. Afghan, Director, China Study Centre shed light on the importance of the China Pakistan Economic Corridor (CPEC) which is the economic lifeline for Pakistan. "We want to demystify CPEC and the evolving challenges and opportunities it brings. Taliban is the new reality in Afghanistan and we need to learn to live with the new reality." He further talked about creating a bridge between all parties and emphasized that a future that brings peace, respect and dignity for all is the need of the hour for the region and beyond. "Pakistan has historically been part of the Silk Road and has always been connected with the Central Asian civilizations. It is time we reconnect with the roots economically and socially".
The first keynote speaker of the event, Mr. Khalid Mansoor, Special Assistant to the Prime Minister on CPEC Affairs joined the session virtually from Lahore. "It is about time people know the reality of CPEC as there is so much negativity around it and it is now time to share its progress." He highlighted the three phases of the CPEC roadmap which initiated in 2015 and will go up to 2030. "The first phase focuses on alleviating the power crisis and infrastructure development. The second phase focuses on the mid-term projects which will be completed till 2025."
He shared details about the progress made in the different phases of CPEC. As for the West, and how it views CPEC, Mr. Mansoor mentioned, "The U.S. and Europe views it as China's political ambition, rather than focusing on the regional connectivity it is bringing." He further highlighted that CPEC is progressing in the right direction, it is the era of industrialization in Pakistan that is moving Pakistan towards a modern economic journey.
Professor Dr. Qian Feng, Director of Research Department and Senior Research Fellow, National Strategy Institute, Tsinghua University, China, the second keynote speaker stated, "Through the Summit we are making developments to further enhance CPEC which is in the common interest of Pakistan, China and Afghanistan." He shared his thoughts about the Pakistan-India relationship which is key. "India-Pakistan relationship has always been the parameter of regional situation. Among them Kashmir issue is the key point. We can see as in 2019 when the nationalist Modi government outrageously abolished Article 370 of its constitution that really has broken the balance of Kashmir… (and) China always stands on the side of justice," he remarked.
The third keynote speaker, Mr. Guo Chunshui, Commercial Counselor, Chinese Consulate, Karachi stated, "China and Pakistan have a unique iron-clad friendship, and established an all-weather strategic cooperative partnership. CPEC is a landmark and pilot project of the "the Belt and Road Initiative". Over the past eight years, CPEC has achieved fruitful and remarkable results. With the implementation of CPEC, China has been Pakistan's largest trading partner for six consecutive years and largest source of investment for seven consecutive years."
On China-Pakistan-Afghan trilateral relations he mentioned, "We should focus firstly on enhancing unity and cooperation. Our developments are closely linked with each other's. It is essential for us to strengthen policy dialogue and communication from the perspective of regional development under the premise of fully respecting legitimate security concerns of each other. Secondly (we should focus on) strengthening safety and security. It is necessary to uphold the philosophy of people-centered, comprehensive, cooperative, shared and sustainable security concept, which could help three countries to strengthen capacity for maintaining stability and promote a smooth transition toward true peace, stability, and development in Afghanistan. Thirdly, promoting openness and integration (should be key). China remains committed to pursuing common development, sharing market opportunities and building the "Belt and Road" with Pakistan, Afghan and related countries."
The first panel discussion of the Summit was titled, 'CPEC: The Emerging Geopolitical and Economic Landscape'. The panelists included Mr. Masood Khalid, Former Ambassador of Pakistan to People's Republic of China; Group Captain (R) Sultan M. Hali, Writer and Security Analyst; Dr. Shabana Fayyaz, Head, Defense and Strategic Studies, Quaid-e-Azam University; and Dr. Fazal ul Hadi, Professor, Salam University, Kabul. Moderators of the panel discussion included Dr. Afghan and Dr. Huma Baqai, Associate Professor, IBA Karachi. Dr. Baqai stated that "questions are being raised that is Pakistan being colonized? CPEC was launched when Pakistan was economically and diplomatically isolated, and it was CPEC that bailed Pakistan out of the isolation." She further elaborated that with the U.S. exit from Afghanistan, CPEC is at a crossroads.
The first panelist, Mr. Khalid, discussed the new polarized global order and how Pakistan does not wish to be caught in the crossfire between the U.S. and China. "CPEC has delivered tangible benefits to Pakistan and is the first major investment by a country in Pakistan which affirms China's confidence in Pakistan. Why out of the six corridors is CPEC being targeted? It is so to weaken Pak-China bilateral cooperation."
Mr. Hali mentioned that "Our strengths are also our weaknesses like our strategic location, strategic assets, contacts with the Taliban and our deep-rooted relationship with China." Talking about the opportunities, he stated that our diplomacy needs to be transparent. "Our economy is unfortunately a threat."
Sharing her thoughts, Dr. Fayyaz spoke about the strategic economic and geographical challenges faced by China and Pakistan. "CPEC is the most debated subject within Pakistan, and we need to challenge the notions associated with CPEC internally as we are in a position to reap benefits from it. Unfortunately, we only see the failures and not the progress associated with it." She discussed the perception of the West regarding CPEC as a form of Sino imperialism in Asia.
Joining the summit from Kabul, Dr. Hadi, commented on the recent changes that have taken place in Afghanistan and how that has raised hope and opportunities for the region. "Peace and stability in Afghanistan will prove beneficial for other countries in the region." Talking about CPEC, he said "It is a great economic, social and political opportunity which should not be lost as if the region loses it, the region will be faced with an unknown future." He further stated, "China, Pakistan, Iran and other neighboring countries should help and support Afghanistan to move towards achieving durable peace and stability. Afghanistan is a sovereign country and nobody should think it can be colonized, and its sovereignty must and should be respected and honoured. Afghanistan is the heart of Asia, if it is peaceful, whole of Asia is peaceful."
The second panel discussion was titled 'CPEC: The Challenges and Opportunities for Information and Media Collaboration between Pakistan, China and Afghanistan. Do we need Information Corridor?'. The panelists included, Dr. Ghairat Baheer, Former Ambassador and Senator, Afghanistan; Ms. Naghmana Hashmi, Former Ambassador of Pakistan to People's Republic of China; and Lt. Gen (R) Asif Yasin Malik, Former Secretary of Defense, Pakistan. Moderators included Dr. Afghan and Dr. Aneel Salman, Director, Faculty Development Academy COMSATS University, Islamabad.
Dr. Baheer, present physically at the IBA, said the summit is being held at an important time, a time when the traditional Silk Route should be revived with changing dynamics in his home country. Talking about instability, he mentioned "An unstable Afghanistan will spillover instability across the region, whereas a stable Afghanistan will lead to progress for the region."
Ms. Hashmi shed light on the current world of information. "We are living in an age of information explosion which is both good and bad. CPEC has suffered due to negative propaganda by the West as they don't want the region to be developed particularly due to the Corridor's links with China. Confrontation between China and America is also affecting politics in the field of information. We need to be cognizant of actions taken to contain, malign and create doubts about China particularly in south west Asia (Afghanistan, Pakistan and China). Therefore, it is important for us to demystify CPEC. Even more important is the need to demystify our own thinking and our strategic orientation."
Mr. Malik deconstructed the four words of CPEC for the audience. "CPEC is four words, the pain is caused by the first 2 and these two, China and Pakistan have no place in the new world order. Pakistan is an irritant in the new world order. Even the Pakistan-China friendship is a major handicap for Pakistan. The global media has negativity regarding CPEC and the western media is involved in a hybrid war against the 'C' and 'P' in CPEC. So the objective is to sort out the 'C' and 'P'. Therefore, we have to walk an extra mile to overcome the negativity around CPEC." He highlighted that the concept of CPEC information corridor is very important and is doable and it is equally important for the media potential of Afghanistan to be mobilized.