IBA-CED and PAFLA sign an MoU to facilitate freelancing and entrepreneurship in Pakistan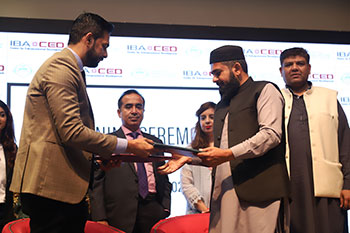 October 1, 2022: Center for Entrepreneurial Development (CED), IBA held a seminar on 'How to start Freelancing for online earning' in collaboration with the Pakistan Freelancers Association (PAFLA) at the Main Campus. With a turnover of around 450 attendees, the seminar prospered in spreading awareness about freelancing, a newly emerging industry in Pakistan that could potentially alter Pakistan's economic landscape. Distinguished freelancers and entrepreneurs graced the event to share their experiences about their freelance journey.
IBA-CED and PAFLA also signed a Memorandum of Understanding (MoU) to facilitate the culture of freelancing and entrepreneurship across Pakistan. The purpose is to support upcoming entrepreneurs and equip them with the right mindset and freelancing/entrepreneurial skills that could uplift their careers and enable them to contribute successfully towards Pakistan's economic development.