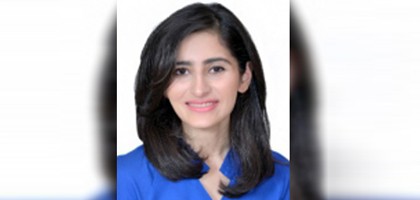 Morial Shah
Assistant Professor - Accounting & Law
Faculty achievements, awards, recognitions
Took oath at the New York Supreme Court in Feb 2020.
Conferred membership of the New York State Bar, 2020
Invited to judge the US Department of Justice's Philip Jessup International Moot Court Competition final round for Pakistan in Lahore in March 2020. Was unable to go because she had to be in NYC for a training in early March and then COVID-19 hit.
Faculty publications
International Journal Articles - 2019-2020
Ethical Standards for International Human Rights Lawyers, Georgetown Journal of Legal Ethics (Spring 2019)
Genetic Warfare: Super Humans and the Law, Science and Intellectual Property Law Review (2019)
Negotiation and Women's Voices, Pepperdine Dispute Resolution Journal (2020, forthcoming in May/June)
South Asian SEZs and WTO Compliance, Journal of International Economic Law, Oxford University Press (forthcoming in a special SEZs issue in 2020-2021, subject to change owing to COVID-19)
Book Chapters
Covid-19 and Commercial Contracts: Primer for Pakistani Businesses, IBA Business Review, COVID-19 E-Book (2020)
Conference Papers
North Carolina Central University (NCCU) Law School, Spring Law Symposium, Genetics and Law, Raleigh, North Carolina, April 2019
South Asian SEZs and WTO Law, Conference on SEZs and International Economic Law, Doha, Qatar, Oct 2020 (tentative)
News:
Legal Reports and Memoranda
Affidavit and Expert Report, confidential, submitted to a U.S. Court operating under the Third Federal Circuit, June 2018
Equal Protection Rights Report and Draft Constitutional Amendment, Member, Law and Justice Committee, Parliament of Pakistan, confidential, 2019 (brief version of report presented on floor of parliament and amendment approved)
Memorandum - Jadhav Case, confidential, Member, Law and Justice Committee, Parliament of Pakistan, July 2019
Memorandum on BoI's Proposed SEZ Law Reform, confidential, submitted to Chairman, Pakistan's Board of Investment, November 2019
Faculty appointment and promotions
Promoted to Assistant Professor, 2020
Participation in international seminars
Conference and Paper (as above)

North Carolina Central University (NCCU) Law School, Spring Law Symposium, Genetics and Law, Raleigh, North Carolina, April 2019
South Asian SEZs and WTO Law, SEZs and International Economic Law Conference in Doha, Qatar, October 2020 (forthcoming and tentative owing to COVID-19)

Continuing Legal Education Seminars (now Webinars) and Training Events

Completed mediation training to qualify as a Mediator in New York State under Part 146 of New York Court Rules, New York Peace Institute, April 2019
Negotiation Skills & Strategies for Everyday Bargaining: Full Seminar (converted to webinar because of COVID-19), New York City Bar Association, April 2020
What Every Practitioner Needs to Know About New York's Enactment of the Uniform Voidable Transactions Act ("UVTA"): Full Seminar (webinar owing to COVID-19) March 2020