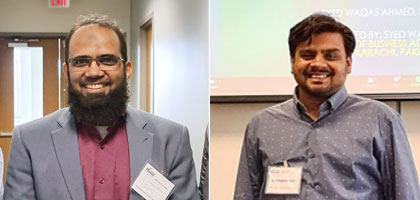 Recognition
IBA faculty and student win the Best Paper Award at 5th Andrew P. Sage Memorial System Engineering Competition at GMU
Assistant Professor, School of Mathematics and Computer Science, Dr. Imran Khan, and MS Computer Science student, Syed Waqas Ahmed, have co-authored a paper titled 'Framework for the digitization and automation of rapidly changing business processes within SMEs', presented at the Annual Research Conference at George Mason University (GMU), Virginia, USA. The dynamic duo won the 5th Andrew P. Sage Memorial System Engineering Capstone Design Competition, in the category of 'System Improvement', becoming the first Pakistanis in the history of GMU to bring home the Best Paper Award. The abstract of the paper can be accessed here:
Participants comprised of students from world-renowned universities including the University of Illinois, the University of Pennsylvania, and Virginia Tech University. All the research projects were thoroughly evaluated by the industry experts including MITRE, IBM, Boeing, and General Dynamics.
The second paper selected for the conference from the IBA was titled, 'Process Optimization Using Supervised Learning Models'. The paper was co-authored by EMBA alumni, Syed Abbas Ali, and Dr. Khan. Both research projects were nurtured at IBA, Karachi under the supervision of Dr. Khan.
The IBA Karachi congratulates its young researchers and seasoned faculty on winning this prestigious award and wishes them success in their future endeavours.