KUL hosts a seminar on 'Extreme Heat and Urban Vulnerability: Intersections of Governance, Health and Urban Planning in Karachi'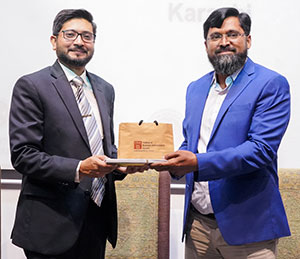 September 08, 2022: The Karachi Urban Lab (KUL) hosted a seminar titled 'Extreme Heat and Urban Vulnerability: Intersections of Governance, Health and Urban Planning in Karachi' at IBA City Campus. In the seminar, the KUL team of researchers presented findings from their scoping study 'Designed to Fail: Heat Governance in Urban South Asia: The Case of Karachi'. The findings emphasize the need to understand heat, microclimates, urban planning, infrastructural inequities, and vulnerability in a relational context. The chief guests Dr. Asma Hyder, Professor and Dean School of Economics and Social Sciences (SESS), IBA and Syed Jawad Muzaffar, Additional Commissioner, Karachi, spoke about the importance of such work, especially considering Pakistan's recent facing with climate disasters.
Dr. Hassaan Khan, Assistant Professor, Integrated Science and Mathematics, Habib University, presented original climate data analysis for the last 60 years in Karachi, and future projections to quantify the rapid temperature change in the city and findings that underscore why it is important now, more than ever, to talk about heat in the context of an unequal city.
Furthermore, Muhammad Toheed, Associate Director, KUL; Soha Macktoom, Associate Director, KUL and Lecturer, Department of Social Sciences and Liberal Arts (SSLA), IBA; and Aqdas Fatima, Research Associate, KUL; presented on the current stakeholders and management involved in Karachi's heat space, as well as potential models that can be used for better planning to manage and mitigate impacts of rising temperatures at the urban scale.
Dr. Adam Abdullah, Associate Director, KUL and Lecturer, SSLA Department, IBA, shared hard-hitting findings regarding household and commercial experiences of heat, which were gathered from KUL's most recent large-scale survey exercise of 15,000 households and 5000 commercial surveys across Karachi.
Chief Guest and Professor and Dean, Faculty of Architecture and Management Sciences, NED University, Dr. Noman Ahmed, spoke about the intersections between land issues and heat impacts, especially in the ways they seep into governance practices such as the provision and management of safe and accessible public spaces.
After an engaging Q&A session, Dr. Nausheen Anwar, Professor, City & Regional Planning, SSLA Department, SESS, IBA and Director/Founder, KUL closed the event with an important note on the complexity of studying heat as a chronic urban concern, and its implications on public health. She also addressed the urgent need to address these concerns considering the development of the Pakistan Cooling Action Plan and its critical relevance to cities, which are left out of the broader policy discourse on climate change impacts and adaptation.