ED IBA and CEO OGDCL interacted with successful NTHP graduates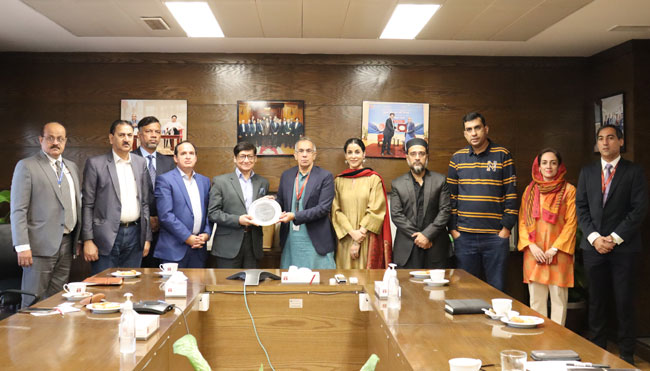 December 02, 2022: Managing Director (MD) and Chief Executive Officer (CEO), Oil and Gas Development Company Limited (OGDCL), Mr. Khalid Siraj Subhani, visited IBA for a meeting with the Executive Director IBA, Dr. S Akbar Zaidi. He also met the graduated scholars of the OGDCL-IBA Talent Hunt Program.
OGDCL had signed an MoU in 2016 for a fully funded OGDCL Talent Hunt Program to reach out to the talented and deserving students belonging to the remotest areas in the country. Since then, 205 students have attended orientation sessions in which they were trained for the admission test at IBA and other top tier universities.
The successful students received fully-paid scholarships that covered their tuition fees, hostel fees, mess charges, and monthly stipends. Many graduates are now working for prominent companies like Philip Morris, Daraz, In-driver, and IRD Pakistan.
Mr. Siraj was very happy with the results of the program and congratulated the graduates on their success and hard work. Seeing the success of this initiative, Mr. Siraj said that OGDCL would continue to support the IBA National Talent Hunt Program. Such programs create opportunities for deserving and talented students from all over Pakistan, who have limited resources to pursue their educational aspirations.
In the meeting, students shared their success stories and thanked OGDCL for their support. Ms. Haleema, from Quetta stated, "I belong to the Hazara community. When I started my journey, it was a very difficult time. People were unsure about their present, let alone their future. But I kept my dream alive and never lost hope. The NTHP program helped me achieve my goal of having a better and more secure future. I also went abroad to study for a year under an exchange program at IBA. Currently, I am working at Maersk. I thank IBA and OGDCL for providing me with this opportunity."
Hamza, from Khuzdar, shared his story and said, "My father was a primary teacher in my village but sent me to Quetta for better education. I was given Rs. 4000 per month by my family. I could never dream of getting an education at a top university, but the OGDCL-NTHP program made this happen. I got selected and studied at IBA for a complete degree program. I have now graduated and I am drawing a very decent salary at Aga Khan University as a research assistant. Now, I plan to help the people of my village to get a better education and change their lives."
Dr. Zaidi highlighted the salient features of the program and said, "NTHP program is IBA's flagship diversity and inclusion program that is making a life-changing impact in society. Our mission is to find talented students with financial constraints and give them quality education to enable them to reach their true potential. The graduates, then, help their communities and families, so it's not a single person that we are supporting through this program but entire communities." He then thanked OGDCL for their support to IBA.
The meeting was also attended by the Executive Director, OGDCL, Mr. Zia Salahuddin; Administrator Karachi, OGDCL, Mr. Rafique Khuwaja; Director ARC, IBA, Ms. Malahat Awan; Director NTHP, IBA, Mr. Junaid Alam; Director Finance, IBA, Mr. Moeid Sultan; and Head of Marcomm, IBA, Ms. Ayesha Javed.