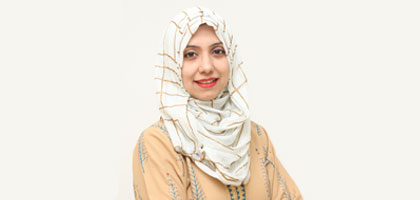 Published Works
IBA faculty authors research paper on returns for conventional and Islamic stocks in Pakistan
Dr. Sana Tauseef, Assistant Professor, Department of Finance, has recently had her research article titled, 'Sentiment and Stock Returns: A Case for Conventional and Islamic equities in Pakistan' published in Business & Economic Review, an HEC recognized (X-category) journal.
About the paper:
The study examines the bidirectional causality between market sentiment and returns for conventional and Islamic stocks in Pakistan over the period from August 2009 to June 2019. Using the firm-level data for all stocks listed on Pakistan Stock Exchange, market sentiment index is constructed as the first principal component of six variables: advances-to-decline, premium on dividends, price-to-earnings, relative strength, money flow and turnover rate. Results show that market sentiment has strong predictive power for subsequent conventional stock returns. Sentiment based trading actions of the investors cause persistence in conventional stock returns for one month; however, as these stocks become overpriced, the price movement reverses in two months' time. In contrast, no significant association between market sentiment and Islamic stock returns is reported. Findings of the study are suggestive of different dynamics and investor behavior in Islamic financial markets of Pakistan and along with the existing literature documenting Islamic stocks performance to be at least as good as the conventional stock can be a comfort to the Muslim Investors and may serve as the catalyst to stimulate the growth of Islamic equities.
For more details: https://imsciences.edu.pk/files/journals/vol12_3/New%201%20MA_964.pdf
---
Published Works
IBA faculty authors a case-study on investment and financing avenues for a Jewelry business
This case was prepared by Dr. Sana Tauseef, Assistant Professor, Department of Finance, as a basis for classroom discussion rather than to illustrate either effective or ineffective handling of an administrative or business situation. The case-study is published in the Asian Case Research Journal. The journal is indexed in Emerging Sources Citation Index and Scopus.
Abstract:
The teaching case, based on actual events, describes a dilemma facing Jawwad Karim at the Sunar Factory. After taking over his small family business of jewelry manufacturing located in Karachi, Jawwad Karim chose to open the business to customers rather than manufacturing the jewelry for big jewelry retailers only. In May 2018, Jawwad was considering to purchase an X-ray Fluorescence (XRF) Gold Testing Machine and offer the gold testing service to customers. Taking the first mover advantage, he expected to earn good returns on his investment; however, with zero personal savings, he had to consider external financing options.
The case presents the terms of possible financing alternatives: bank loan, angel investment and informal loan offered by a customer, that Jawwad had been exploring. While he was enthusiastic about the purchase of XRF tester, Jawwad had some concerns about the level of debt. Since he had never operated under debt burden, he was worried about the size of loan as well as what the commitment would mean for his business in terms of future opportunities. He needed to validate the feasibility of investment and understand the positive and negative impacts of the financing alternatives to identify the best one.
This case is prepared as a basis for classroom discussion for the courses Corporate Finance and Entrepreneurial Finance. The integrative nature of the case enables the students to apply the skills and tools in many areas of corporate finance in a single real world management situation.