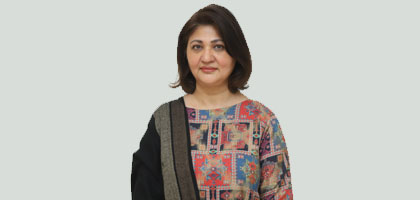 Recognition
IBA faculty appointed as member of Advisory Board for women's empowerment project
The IBA Karachi is pleased to announce that Dr. Nyla Aleem Ansari, Assistant Professor and Academic Director PGD (HRM) Program, has recently been appointed as Member, Advisory Board for Curriculum Development for FEEEL (Pvt.) Ltd. Keeping in view her valuable experience and skills, she has also been given the additional responsibility as a mentor for "Shana ba Shana program" which is an empowerment program for home-based women entrepreneurs to develop their IT, business, financial and essential soft-skills literacy.
Dr. Ansari is an expert in organizational psychology and she will help in bringing change with the assistance of academic communities, support of academic visionaries and industry professionals.
About FEEEL (Pvt.) Ltd:
The FEEEL (Pvt.) Ltd. is Pakistan's first digital company working on emotional preventive care. FEEEL is an acronym for Framework for Emotions, Ethics, Empowerment and Life skills. It works on three domains: Curriculum Development (emotions, ethics, empowerment), Awareness through sessions and trainings and Asynchronous/Hybrid online certification courses including instructional designs.