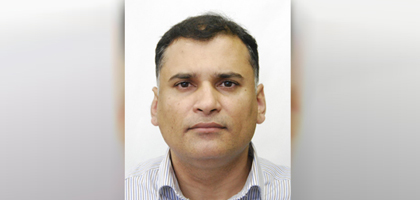 Published Works
Dr. Amir Jahan Khan
IBA faculty co-authors a paper on Physical therapy for facial nerve paralysis
Dr. Amir Jahan Khan, Assistant Professor, Department of Economics, School of Economics and Social Sciences, co-authored a paper titled, 'Physical therapy for facial nerve paralysis (Bell's palsy): An updated and extended systematic review of the evidence for facial exercise therapy', published in the Clinical Rehabilitation journal.
Abstract:
Objective
To conduct a systematic review of the effectiveness of facial exercise therapy for facial palsy patients, updating an earlier broader Cochrane review; and to provide evidence to inform the development of telerehabilitation for these patients.
Data Sources
MEDLINE, EMBASE, CINAHL, Cochrane Library, PEDro and AMED for relevant studies published between 01 January 2011 and 30 September 2020.
Methods
Predetermined inclusion/exclusion criteria were utilised to shortlist abstracts. Two reviewers independently appraised articles systematically extracted data and assessed the quality of individual studies and reviews (using GRADE and AMSTAR-2, respectively). Thematic analysis used for evidence synthesis; no quantitative meta-analysis conducted. The review was registered with PROSPERO (CRD42017073067).
Results
Seven new randomised controlled trials, nine observational studies, and three quasi-experimental or pilot studies were identified (n  =  854 participants). 75% utilised validated measures to record changes in facial function and/or patient-rated outcomes. High-quality trials (4/7) all reported positive impacts; as did observational studies rated as high/moderate quality (3/9). The benefit of therapy at different time points post-onset and for cases of varying clinical severity is discussed. Differences in study design prevented data pooling to strengthen estimates of therapy effects. Six new review articles identified were all rated critically low quality.
Conclusion
The findings of this targeted review reinforce those of the earlier more general Cochrane review. New research studies strengthen previous conclusions about the benefits of facial exercise therapy early in recovery and add to evidence of the value in chronic cases. Further standardisation of study design/outcome measures and evaluation of cost-effectiveness are recommended.
The paper can be accessed here.
---
Dr. Amir Jahan Khan and Muhammad Ashar Malik (Aga Khan University) have published a research paper titled "Regulation, quality reporting and third-party certification of healthcare providers" in the Journal of the Pakistan Medical Association (JPMA). The study analyses the certification role of the Healthcare Commissions in Pakistan and draw lessons for improving the healthcare quality reporting process in the country. The study also documents the short-term and long-term trade-off resulting from the enforcement of quality certification in the absence of appropriate alternative investment in medical training and care provisions in the country for uncertified providers. The publication can be accessed through this link: https://www.jpma.org.pk/article-details/10147
---
Dr. Amir Jahan Khan has published a research paper in the Journal of Medical and Internet Research (Impact Factor 2018: 4.945, ranked #1 out of 26 journals in the medical informatics category). The paper, Raising the Digital Profile of Facial Palsy: National surveys of patients' and clinicians' experiences of changing UK treatment pathways and views on future role of digital technology is accessible through the link: https://preprints.jmir.org/preprint/20406
This study was undertaken as part of a multidisciplinary collaborative research project "F.R.A.M.E. (facial remote activity monitoring eyewear)", an inconspicuous, non-invasive, mobile sensor device for real-time control of assistive technologies through facial expression. The project was awarded by the National Institute for Health Research (NIHR) UK, Dr. Amir worked as the lead health economist on the project.