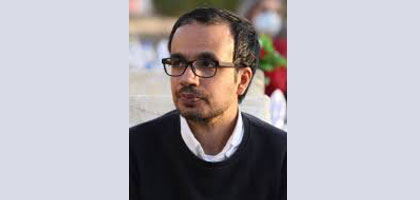 Published Works
Dr. Ahmad Azhar
IBA faculty authored a paper on Lahore's Proletarian Vanguard
Dr. Ahmad Azhar, Assistant Professor, Department of Social Sciences and Liberal Arts, School of Economics and Social Sciences (SESS), authored a paper titled "We don't need no education": Lessons from the (Un)making of Lahore's Proletarian Vanguard (ca. 1920–2000), published in the Journal of International Labor and Working-Class History.
Abstract
This article marks an experiment in narrating a longue durée intellectual history 'from below' of West Punjab's organised labour movement (c.1920–2000). This movement bridges the late colonial and post-colonial periods and links the histories of working-class movements across the Indian and Pakistani States. Punjab's revolutionary heritage of the twentieth century has been, over the last decade, at the heart of broader theoretical arguments on the relationship of the internationalist Left with localised articulations of radical politics across South Asia. This resurgent scholarship, I argue in my paper, overstates and presents in a somewhat uncomplicated and teleological frame the role of left ideologies and institutions in the formation of the revolutionary subjectivities of Punjab's working classes and poor. It crafts in a deeply hagiographic mode a narrative of the working classes' intellectual emancipation through contact with what are generally taken to be the enlightened and progressive elements amongst the bourgeoisie of those times. This is made possible only by glossing over tensions haunting the potentially transgressive relationship between the worker and the intellectual and which this paper brings to the fore. By focusing on the upheavals attending the fraught relationship between Lahore's worker militants and its renegade bourgeois intellectuals of the political and academic left over three generations, I question these narratives and their underlying assumptions. It is argued that instead of emancipating the worker, an education in the theory of socialism and the practical experience of left activism alongside bourgeois comrades ultimately reinforced the social and intellectual hierarchies separating the two. The processes through which this inequality was further enshrined are partly revealed by looking at the discursive formation of these workers as a proletarian vanguard, both by the State and the Communist party. Sources used for this purpose include colonial and post-colonial State records, official inquiry reports and their evidence volumes, the internal documents (in Urdu) of the Lahore district branch of the Communist party and newspapers in English and Urdu published from Lahore for the colonial and post-colonial periods. For this proletarian vanguard's perspective on its own making and unmaking the article draws upon oral interviews (in Punjabi and Urdu) of worker leaders in the archives of local NGOs, published memoirs, as well as formal interviews and informal conversations with trade-unionists and leftist intellectuals directly involved in the workers' movement, especially through study circles and other 'educational' projects, up till the late 1990s.
The paper can be accessed here