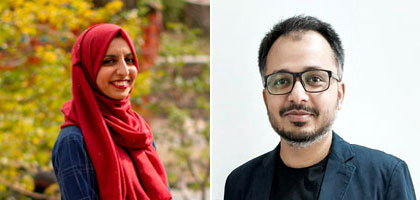 Published Works
IBA faculty members co-author a paper on understanding the thermopolitics of extreme urban heat in Karachi
Assistant Professor, School of Economics and Social Science (SESS) and Associate Director, Karachi Urban Lab (KUL), Dr. Adam Abdullah; and Lecturer SESS and Associate Director, KUL, Ms. Soha Macktoom co-authored a paper titled 'Heat (in)action: The Thermopolitics of Extreme Urban Heat in Karachi', published in the International Journal of Urban and Regional Research.
Summary
The text examines the response to extreme heat in Karachi, Pakistan, and explores the concept of 'heat (in)action'. Karachi has witnessed a substantial increase in temperatures over the years, with the 2015 heatwave being particularly devastating. Despite this, the city's response to extreme heat has been characterized by a lack of coordinated action. The text highlights that issues of climate and thermal justice are intertwined with pre-existing urban inequalities, including disparities in resource distribution, and living conditions. Karachi's urban landscape reflects these inequalities, making vulnerable populations disproportionately susceptible to extreme heat. Urban politics in the city have become fragmented and arbitrary, further complicating efforts to address thermal vulnerabilities. The text concludes by emphasizing the need for a more informed understanding of heat and urban inequalities, as well as a coordinated and equitable approach to thermal governance in Karachi as extreme heat continues to pose significant challenges for the city's residents.
The paper can be accessed here: