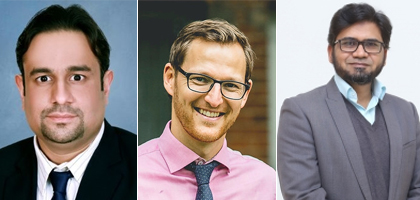 IBA faculty granted DAAD funding for 2-year collaboration project with Leipzig University
Assistant Professor, School of Business Studies, Dr. Najam Akber Anjum and Assistant Professor School of Economic and Social Sciences, Dr. Aadil Nakhoda, have won the DAAD funding for a two-year SME internationalization research and training collaboration project with Leipzig University, Germany. The proposal was jointly submitted by the two IBA faculty members along with Lecturer, Fit for Export program, Leipzig University, Gunnar Kasberg, who is also leading the project.
The two-year project includes the following:
An export education focused summer school at IBA Karachi delivered by Pakistani and German trainers.
A fully funded visit of Leipzig University by Pakistani researchers including faculty members and students.
A research colloquium in Germany to be attended by up to six PhD students from Pakistani universities.
The project intends to train a group of Pakistani SMEs on the internationalization process and expects several high-quality publications coming out of the collaborative work between Pakistani and German students as well as faculty members.
---
Recognition
IBA faculty successfully complete National Exporters Training Program for TDAP
National Exporters Training Program is an initiative of Trade Development Authority of Pakistan (TDAP). The program was launched in January 2018 and TDAP sought consultant services for the development and delivery of this training. Dr. Najam A. Anjum, Assistant Professor, and Dr. Aadil Nakhoda, Assistant Professor and Research Fellow at CBER, won the bid and worked with TDAP to develop and deliver a comprehensive training on exports and international trade. The training included modules of Export Research and Marketing, Export Financing, and Export Documentation.
Training material development was preceded by a need assessment event. This event was presided by former executive director of IBA, Dr. Farrukh Iqbal, and was attended by representatives of State Bank, SMEDA, Pakistan Customs, and associations of SMEs from all major industrial sectors of Pakistan. This event was followed by one-on-one discussions with main stakeholders and site visits where needed. This need-assessment activity, discussions, and visits resulted in a comprehensive and very focused training material which was also reviewed by independent experts in academia and industry. The Secretary TDAP, along with the representatives of JAICA (Japan International Cooperation Agency) then reviewed this training and the delivery phase started.
In the first phase, the program was conducted in Karachi, Lahore, Rawalpindi, Peshawar, Sialkot, and Faisalabad. Dr. Najam A. Anjum and Dr. Aadil Nakhoda were the two trainers who not only delivered trainings to SME owners in these cities but also trained the potential trainers from TDAP for the future delivery of these trainings. First four programs were delivered in person but the last two had to be done online because of Covid-19 Pandemic.
This program and its popularity also led the House of Habib (HoH) to make Dr. Najam A. Anjum and Dr. Aadil Nakhoda a part of their exporters training program which was initially conducted by a trainer from Leipzig University, Germany.
These training programs are the need of the hour for the struggling economy of Pakistan the only way out of which is improvement in balance of trade through enhanced and diversified export of goods and services to existing and new markets of the world.