CEJ-IBA Unpacks Media Coverage of Motorway Rape Case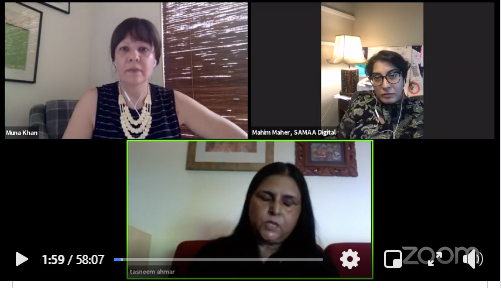 September 17, 2020:CEJ-IBA recently organized a webinar that focused on unravelling the media coverage of the unfortunate motorway rape incident. The session was moderated by CEJ lecturer, Muna Khan. Panelists included Mahim Maher, Editor, Digital Properties and Tasneem Ahmar, Director, Uks Foundation.
Speaking during the session, Ahmar stated, "Mera jism mere marzi is not a vulgar slogan - it unpacks what women have been going through since decades. Pictures of rape victims are revealed, while the rapist is bought to the court with a veil on his face." She further added that journalists should do every story of crime as if it has happened to someone they knew/know.
Also speaking at the session, Maher stressed, "The first rule of journalism is doing no harm. Journalists do not need to use the word 'allegedly' in their copy. They can just say what the person has said."
The hour-long session, which was Live streamed on Facebook, concluded with a Q&A session.