CED conducts Summer Entrepreneurship Camp for kids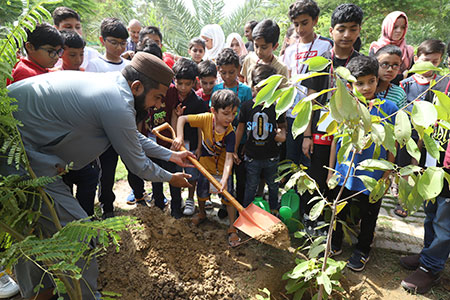 June 27- July 01, 2022: Center for Entrepreneurial Development (CED), IBA successfully completed its Summer Entrepreneurship Camp (SEC) for kids. Dr. S Akbar Zaidi, Executive Director, IBA, graced the orientation session as Chief Guest and led the cake cutting ceremony with young minds.
In these five days, 57 kids learned the entrepreneurial mindset through lectures on, technology as a tool, basics of Turkish language, money management, awareness about Sustainable Development Goals (SDGs), and via videos, exercises, and hands-on activities. The camp also organized a Zumba activity for physical fitness. Kids also planted trees in the IBA garden and were encouraged to do the same in their neighbourhoods.
IBA-CED also organized a lunch and graduation ceremony on July 01, 2022 at the Main Campus in which parents, partners, and sponsors of IBA-SEC were also invited. Certificates were distributed amongst the kids and their progress based on the five-day camp was also shared with their parents.
Dr. Abdullah Zafar Sheikh, Professor, Department of Management and Dean School of Business Studies (SBS) graced the occasion as Chief Guest along with Dr. Shahid Qureshi, Rector, GIFT University, Gujranwala as Guest of Honour. Other guests included, Mr. Furqan Bilal, Chairman, TFS; Mr. Tariq Shah, Central Chairman, APSMA; and Mr. Atiq Shamsi, Central Vice Chairman APSMA.
Mr. Azad Ahmed, Acting Head, CED thanked the guests, and partners for their participation and wished the kids a bright future ahead.
The IBA-SEC concluded successfully with support from the collaborators including, TFS schooling system, Valeem, All Private Schools Management Association Sindh, and Dollar as Educational Partners. Sacha's Cakes and The Corporate Lunchbox sponsored nutritious food during the SEC to keep the kids energized.