IBA Karachi, CIMPA Research School and LUMS co-host a workshop on 'Algebraic and combinatorial methods in Geometry'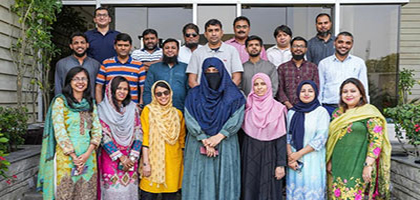 March 1 - 11, 2022: The Institute of Business Administration (IBA) Karachi in collaboration with Centre International de Mathématiques Pures et Appliquées (CIMPA) and Lahore University of Management Sciences (LUMS) organized a 10-day workshop on 'Algebraic and combinatorial methods in Geometry'.
The workshop was virtually and simultaneously co-hosted at IBA and LUMS with various speakers from Tulane University, New Orleans, USA; Eberhard Karls Universität Tübingen, Germany; Aalto University, Aalto Finland; Amirkabir University of Technology, Iran; IPM, Iran and Hanoi Institute of Mathematics, Vietnam.
Participants included, academics, researchers, faculty members, research scholars and students from universities across the country. The IBA Organizing Committee included, Dr. Junaid Alam Khan, Associate Professor and Director Talent Hunt Programs; Dr. Amir Bashir, Assistant Professor, Computer Sciences Department; and Ms. Nazish Kanwal, Lecturer, Mathematical Sciences Department.
The workshop aimed to bridge the gap across various Mathematical disciplines that have common methods of applying Algebra and Combinatorics in Geometry. The lectures covered the foundations of the theory application, along with their theoretical relevance.