ACCW - Dramatic Readings Session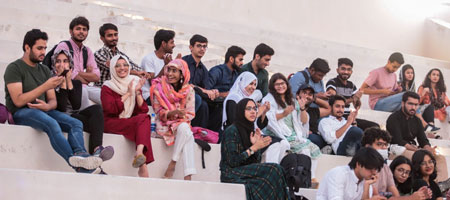 October 18, 2021: The Ardeshir Cowasjee Centre for Writing (ACCW) organized a Dramatic Readings session at the Alumni Students' Centre Amphitheatre, IBA Main Campus. The event invited talented students to come forward and delve in the art of poetry, prose and performance.
The shining stars of IBA rose to the occasion and showcased their brilliance. The students enthralled everyone with their eloquent recitations and performances. From the treasure troves of Urdu ghazals and azaad nazams to songs, poetry and other English literary pieces; each performer brought their own unique take on different cultures, feelings, and historical events through their selected ways of expression.
From Maya Angelou's unshakeable conviction of helping the common man to Phil Kaye's 'Repetition' beautifully depicting the feelings of a child from a broken home, from Kafka's heart-wrenching letter to his tyrannical father to original pieces; every performance was met with applause and appreciation from the captivated spectators. Some gifted writers shared their own original works, bringing their words to life and connecting with the audience on a more personal level.
The evening culminated with beautiful recitations of Faiz Ahmed Faiz, 'Hum Dekhen Ge' and 'Bol Ke Lab Azad Hain Terey', leaving the audience mesmerized with their beauty and depth.