Paigham-e-Pakistan session held at the IBA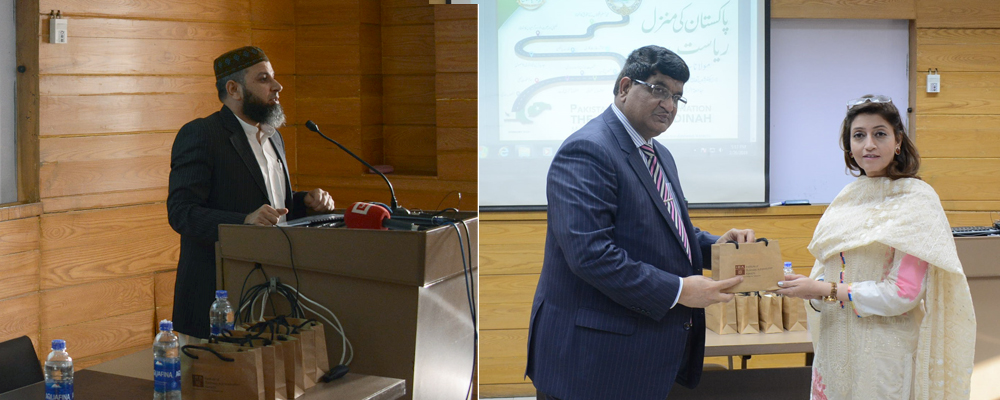 February 26, 2019: The Institute of Business Administration (IBA) Karachi, in collaboration with the Ministry of Defence, Pakistan organized a session Paigham-e-Pakistan – Pakistan's counter-terrorism narrative at the IBA, main campus. The event was attended by religious/research scholars, IBA students, faculty and staff.

The speakers of the session were Professor of Shariah and Islamic Law, Director General, Islamic Research Institute, International Islamic University, Islamabad, Dr. Muhammad Zia-ul-Haq; Director, Public Relations and External Affairs at Jamia tur Rasheed, Dr. Ayaz Shah and Assistant Professor, Iqra University, Dr. Salima Ahsan Tejani.

The event started with a welcome address by Dr. Huma Baqai. She discussed the importance of Paigham-e-Pakistan and Dukhtaran-e-Pakistan initiative in Pakistan. She added that these sessions have been organized in different universities across all provinces to create awareness regarding the true meaning of Islam and Pakistan.

"Pakistan for a very long time has suffered a lot from an image gap both internally and externally. So, this is a small effort to address this image gap. And to address this image gap we need to understand what is wrong, and how do we go about resolving it; this initiative is all about it," Dr. Baqai mentioned.

Dr. Haq introduced the document Paigham-e-Pakistan to the attendees and spoke about the "orientation to Paigham-e-Pakistan - an indigenous peace building effort."

Dr. Haq shared the background of the effort and said, "Over the last 10 years, Pakistan suffered an immense damage… caused by an illusion created by the distortion of Islam; with religion being mixed with extremism, terrorism and hate, due to which our educational institutes, including universities became the target of the narrative (and that was when) the need of a national narrative was felt (to) counter violence, extremism, radicalism and create awareness about the fundamental issues of Islam in public."

He encouraged the youth to read the document in order to avoid any confusion related to the national narrative.

Dr. Tejani delivered a session on stress and stress management. She mentioned, "It is not possible to change the mindset of the society without changing an individual's mindset."

Dr. Shah explained the structure of the state of Medina and further pointed out the articles of the constitution of Pakistan which mirrors the same ideology as that of the constitution of Medina.