TCF ADP student Asad Sajid accepted into International Leadership Program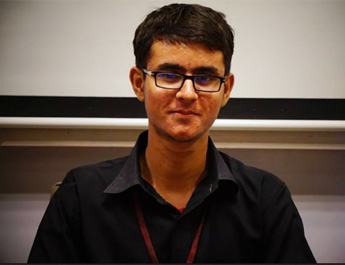 Asad Sajid is no stranger to the public buses of Karachi. There is one route he is still mastering, one which takes him from the narrow streets of Karachi's Gidar Colony to the wide and expansive campus of the Institute of Business Administration (IBA) Karachi.
The eldest of four brothers, Asad is an alumnus of school run by The Citizens Foundation (TCF) and a student of IBA BBA Class of 2019.
"A student develops consciousness about what he wants to do with his life usually in class 9 or 10 when he gives board exams," he said. "That's when we start to think about which field we want to select and what we want to do with our lives."
"Our teachers would usually tell the boys that they have to become engineers and they would usually direct the girls towards pursuing medicine and becoming doctors. This is why from the very beginning I had a general sense that I was going to be an engineer."
Despite Asad's financial circumstances, the dream was stoked and on his part he kept working on it to become a reality. Things seemed to be pointing in that direction too.
"I got a very good percentage and TCF awarded me with a silver medal," he said. "I got admitted in Government Degree College, Malir Cantt."
The college was approximately an hour away from his home and there he began studying pre-engineering. His percentage dropped in the Intermediate first-year but he struggled to improve it in the second-year and managed to raise it substantially. His dreams for university were very limited since he knew little about what was out there. He relied on what his seniors at his TCF school had achieved and what their teachers had told them alone.
Life had other plans for him. It informed him of these plans with one phone-call which TCF's Alumni Development Programme made.
"The TCF Ambassadors at IBA, one of the university chapters of the TCF Alumni Development Programme, called me up in March 2015," said Asad. "Before that call, I had never heard of IBA. I didn't know what it was. I didn't know where it was."
That same month, Asad started attending the classes offered by the TCF ADP team of volunteers.
"On the first day, we had an orientation," he said. "The teachers told us what we were going to study and how we were going to study it."
He attempted the Round -I of the IBA entrance test in the same month, but he and the other fellow TCF alumni did not make it in that attempt. None of them gave up, nor did their teachers.
"I dedicated all my efforts towards getting into IBA," he recalled.
Because of that phone-call and the classes that followed, Asad developed the confidence to pursue a path no one in his family had trodden.
"If this team had not called me, it would have been impossible for me to even think of applying," he said. "For starters, I was given a fee waiver - not once, but twice - when I applied to IBA in both Round 1 and Round 2. I would not have been able to afford paying 4000/- rupees two times at the time of application."
The classes took place regularly, on weekends, even while Asad was giving exams at college and with the Board of Intermediate Education, Karachi.
Once Asad had appeared for his board exams, the preparation classes and coursework became more intensive. Now, he had to go to IBA seven days a week from 8:30 in the morning to 5pm.
"Even in Ramadan," he said.
This was no easy feat since it took him an hour and half to reach IBA on the public bus. That meant, he was travelling four hours daily just to get to university and go back home.
His efforts were not unrewarded. In Round-II of the IBA entrance test, Asad cleared the exam.
"I got accepted at IBA! I cleared the BBA cut-off by 7 marks," he said with relief evident on his face. "Had I gotten one question wrong, I would not have made it," he said.
The next stage was financing his education. Receiving a scholarship was not just a matter of good grades. The process grilled students to prove to the scholarship committee that they are worth investing in.
"TCF ADP not only helped me with the preparatory classes but it also guided me throughout the scholarship application," said Asad. "From teaching me how to fill out a form to assisting me in learning how to present myself before the IBA Financial Aid committee, TCF ADP was there throughout."
Few young people have the confidence which Asad does. He is dressed casually with a snapback firmly squaring his head and so much a part of the atmosphere on the IBA campus that one can hardly imagine that this young man hails from a deeply disadvantaged part of the city. He does not shy away from his roots and acknowledges that the university does give him and his fellow TCF alumni some level of special treatment in terms of financial assistance, a privilege they are allowed because of their underprivileged experiences.
"I'm a TCF alumnus and the background TCF students come from is different from the backgrounds of most students here," he admits. At the same time, he feels qualified enough to be at IBA and fully experience what other students are experiencing. Asad now hopes to pursue Human Relations as his degree major and study further. After graduation, Asad awaits having a job and enrolling in an MBA program at the Wharton School of the University of Pennsylvania. He knows he can make it that far because he has worked very hard to get where he is. He can manage whatever life sends his way.
"I'm a BBA student at IBA," he said. "It's necessary for me to learn how to manage things. TCF ADP taught me management skills."
The TCF ADP runs purely through volunteers who head different portfolios of the programme. The ADP team is particular in its selection of volunteers and the people doing most of the work on the ground - the undergraduate university students running around and getting things done - are mostly people who are directly associated with TCF's mission of removing barriers of class and privileged from education.
Now in his sophomore year, Asad is an active part of 'TCF Ambassadors at IBA' — a TCF ADP university chapter and currently works as the Team Lead. He is now the one making the phone-calls because he knows just how life-altering it was for him to be at the receiving end of one such phone-call.
Most recently, Asad has made waves by getting accepted into the Study of the US Institutes (SUSI) for Pakistani Student Leaders on Local, State, and Federal Public Policymaking at the University of Massachusetts, Amherst. Asad believes that the TCF Ambassadors at IBA played a pivotal role in him getting accepted for SUSI. "Nadeem Hussain, our founding Team Lead of the club as well as the TCF ADP, guided me throughout the SUSI application and interview process", shares Asad.
Asad's involvement with the TCF Ambassadors at IBA has been, according to him, the distinguishing factor between him and the other applicants at the SUSI Program. He believes him being the Team Lead at a student run program at IBA, strengthened his candidature. "It provided the selection panel with first-hand information into what does it take to be a strong student leader" says Asad. So what can we expect Asad to bring to the TCF Ambassadors at IBA once he comes back from SUSI? "I hope to use the skills I learn at the SUSI Program to streamline the work here at TCF Ambassadors at IBA. The processes I find difficult to execute sometime"
Asad is a living, breathing example of many things that restore our faith in the virtue of hard work. Be it his own journey and perseverance. Or the hard work and honest concern of the TCF Ambassadors at IBA, who genuinely believe it their lives' mission to provide these TCF Alumni the best shot at a higher education and subsequently life. All we need is to continue to find volunteers passionate about sharing their privilege with the less fortunate and talented youth bent upon changing their fortunes. And we can bring about real change that matters.