A talk by Mr. Aamer Ahmed Khan on "The Khaki, The Mufti & The Media"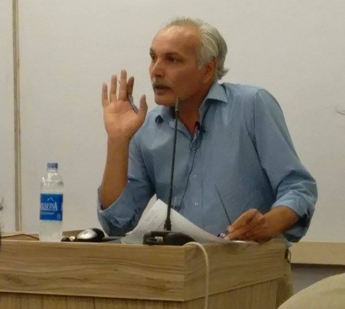 A talk by Mr. Aamer Ahmed Khan was another academic session adding to the list of intellectual events organized by the social sciences department of IBA.
Aamer Ahmed Khan is one of Pakistan's most seasoned journalists. He recently joined Aaj Television as their News Director after returning from London, where he served as an editor for BBC World Service's West and Central Asia Hub and was also the Head of BBC Urdu. Before joining the BBC, Mr. Khan served as the Editor of Herald, Pakistan's premier news magazine and was a member of the team that launched The Friday Times.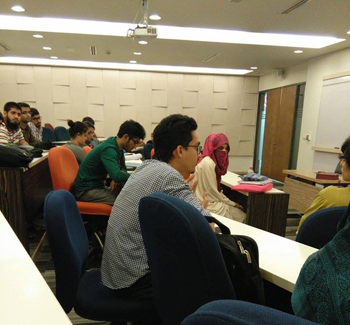 As Mr. Aamer Aahmed Khan expressed his views regarding The News Media and Civil-Military Relations in Pakistan in a unique and humorous manner, the CED Seminar on 21st October 2015 rumbled with laughter continually. He stressed upon the importance of struggle in a journalist's life. He went on to say that in order to improve the quality of news being projected, we really need to cut the frivolity down. Due to source-based journalism, there is no proper flow of information; it's manipulated and false. According to him, 24 hours news is nothing but an exaggeration and dragging of the one hour news.
Furthermore, taking it back to 1985 when media got liberated, Mr. Aamer stated that prior to this time; we never actually knew what was going on in the state. "Well, Partially a good thing", he concluded. Throughout his talk, his satirical comments exhibited his disapproval towards certain Pakistani politicians. He thinks that at the moment, ISI is being led by Nawaz Sharif and that he has drove the country to bankruptcy. Talking about Musharraf as a president, Mr. Ahmed expressed that he is a reckless man and didn't know anything about the strategy of military. He accepted that his prejudices and biases come along these statements but they are credible enough due to his journalism background.
Showing gratitude towards General Raheel Shareef, he stated that things have fundamentally changed after his actions. The media management is in hands of ISPR now rather than ISI; this is how independent the army has become today. The army doesn't need any intelligence to rule over it and in Mr. Aamer's opinion; this all is followed by the Dharnas of Imran Khan. Later on, the floor was open for questions where students put their queries across and received intellectual responses.