Mayor of Bogota, Columbia Visits IBA
Karachi, March 27: Enrique Peñalosa, the former mayor of Bogota, Columbia, and an expert on urban design and strategy visited IBA on 27th March 2015 to deliver a talk titled, "Mobility, Equity, and Quality of Life: Challenges for Karachi."
The highly informative session was structured around Peñalosa's belief that the framework and design of a city should be reflective of a democracy. The urban planner vehemently stressed upon the importance of democratic equality, which entails that every individual, whether rich or poor, has an equal right to occupy the public space. He wishes to make commuting a pleasant experience for people from all age groups, and this is possible through an efficient and rational distribution of road space to pedestrians, bicyclists, public transport, and private cars, primarily because road space reflects the power structure of the city. Although building flyovers and highways may present the illusion of a developing city, a city lacking of quality footpaths and bike-ways to allow for alternative commuting methods, is a bad case of democracy.
Peñalosa insists that a well-planned city is crucial to economic development – a great city has a comparative advantage over others in that it cannot be copied, whereas an ill-planned city is at a disadvantage because once built, the process is difficult to reverse.
"Economic development will not produce good cities, it is rather great cities that bring economic development."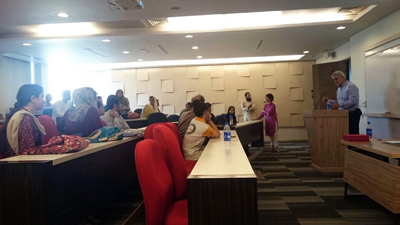 The speaker declared an urgent need to tackle mobility and commuting problems in Karachi—an urban sprawl that threatens to expand extensively in the next 60 years. Peñalosa believes that urban highways are not the way forward. The focus should, instead, be on a design that constitutes avenues and boulevards with sidewalks to facilitate pedestrians, and on regulations that restrict parking in an attempt to avoid traffic congestion. The introduction of the Blue Line Bus Rapid Transit (BRT) will enable cities to use road space most rationally, and will solve the issues of traffic jams efficiently.
Drawing immense inspiration from cities like London, Madrid, and Dublin, Penalosa argues that "treasures" like the MA Jinnah road need to be preserved. Planning the city ahead and facilitating people from all socio-economic classes in the public space can bring Karachi at par with other great urban centers of the world.
During his term as a mayor of Bogota, Columbia from 1998-2000, Enrique Peñalosa embarked upon a mission to clear pedestrian lanes of unnecessary occupation by parked cars, and introduce bicycle-use facilities and a mass transit system. The face of the city has transformed miraculously ever since.