IBA STUDENTS WEEK

The most awaited event of celebrating IBA's 60 years of excellence that is the 'IBA Students Week' commenced from May1st 2015. Undoubtedly, in the calendars of IBA, this day is marked as the day filled with devotion by Student body towards IBA.
IBA Students Week, arranged by IBA Students Council (ISC) with collaboration of IBA Student Societies and Clubs is organized to celebrate 60 years of excellence and appreciates the efforts of students and alumni in maintaining standards of this renowned institute.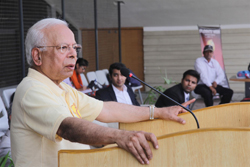 IBA Students Week commenced with an opening ceremony at the Cricket Ground, IBA Main Campus, attended by the Dean & Director, Dr. Ishrat Hussain, Capt. (Retd) Ahmed Zaheer, Registrar, Mr. Jami Moiz, ISC 2015 and various participants of Student Week activities. The opening ceremony started with the recitation of the Holy Quran followed by the National Anthem of Pakistan. Later, Ms. Amna Imam, Executive Council Member, IBA Students Council officially welcomed Students and attendees of the event to a week filled with enthusiasm and celebrations.
Dr. Ishrat Hussain in his address to participants said, "You are the live participants of the 60th anniversary of IBA. You may not realize this now but down the road, when you reach my age, you will realize what does this day mean. Today, for these 60 years, we pay tribute to your predecessors. Next 60 years are in your hands. Each one of you without exception is an epitome and body for IBA. Remember all of you are chain for IBA and that none of you should be weak in this link of chains." Dr. Ishrat further addressed: "The purpose behind these celebrations is to demonstrate to the rest of the country that despite ups and downs, there is one institution in Pakistan that over 60 years has maintained its record of imparting a holistic education and inculcating ethics in its students."
Afterwards, a cake cutting ceremony took place where Dr. Ishrat, the Registrar and Mr. Jami Moiz were accompanied by the ISC members.
The Students Week will consist of sports activities by IBA Boys and Girls Sports Societies, Singing Competition by IBA Music Society, Arts Gallery by IBA Arts Society, Plays by the IBA Dramatic and Literary societies and a Beach Bash by IBA Students Council.