IBA Signs MoU with The Citizens Foundation to further education to all socio-economic classes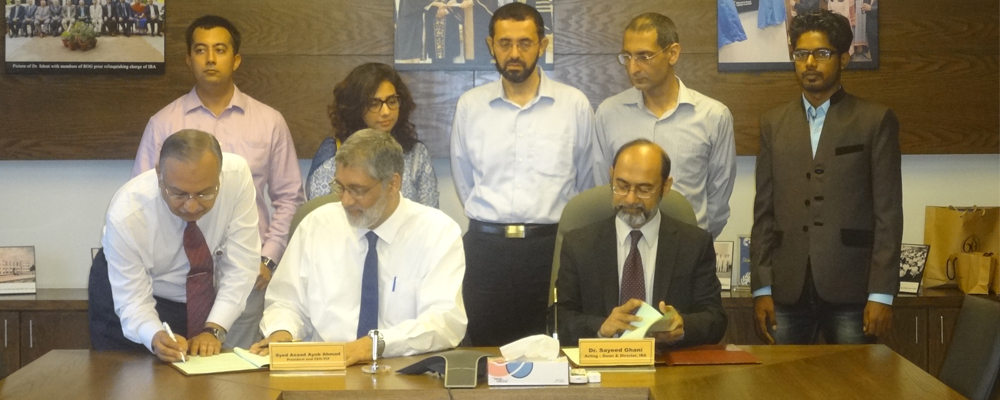 13 June 2016: The Institute of Business Administration, represented by its Acting Dean & Director Dr. Sayeed Ghani, signed a MoU with The Citizens Foundation, represented by its President and CEO Mr. Syed Asaad Ayub Ahmad, at the IBA Main Campus to prepare TCF students for University testing and offer operational and consultative support. The MoU aims to further IBA's effort to better serve the community as both, TCF and IBA have agreed to jointly collaborate to facilitate the admission of meritorious TCF Alumni to the institute through student ambassadors at IBA who will help prepare students appearing for admission tests. Mr. Arif Irfanullah, IBA Faculty and Advisor to the student ambassadors lauded the effort by IBA students who contribute their time towards teaching students at TCF. Mr. Riaz Kamlani, Vice President at TCF, recommended establishing similar student chapters at various universities across Pakistan.
Other representatives from TCF included Mr. Nabeel Anjum and Ms. Faiza Aziz. IBA's Registrar Capt. (Rtd) Ahmed Zaheer was in attendance along with Mr. Imran Shaukat, a TCF Alumnus and current IBA student. Following the MoU signing, guests were given mementos to mark the occasion.
About IBA:
Institute of Business Administration (IBA) is the oldest graduate business school outside North America. It was established in 1955 in collaboration with the Wharton School of Finance and Commerce, University of Pennsylvania. IBA offers Bachelors and Masters in Business Administration, Computer Science, Maths & Economics, Accounting & Finance and Social Science & Liberal Arts. To find out more visit www.iba.edu.pk.
About TCF:
TCF is a professionally managed, non-profit organization set up in 1995 by a group of citizens concerned with the dismal state of education in Pakistan. It is now one of Pakistan's leading organizations in the field of formal education. As of 2016, TCF has established 1202 purpose-built school units nationwide with an enrolment of 175,000 students. To find out more visit www.tcf.org.pk.