IBA - NAVTTC Orientation Ceremony Batch 2017-2018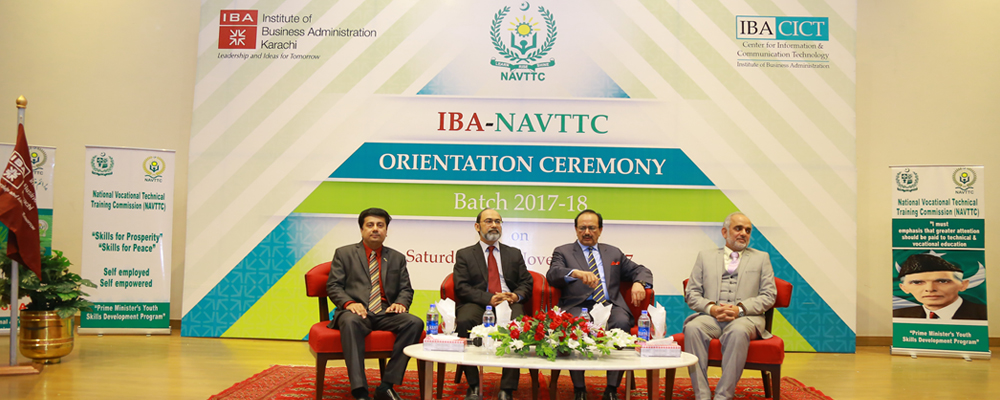 Institute of Business Administration in collaboration with National Vocational & Technical Training Commission (NAVTTC) under Prime Minister Youth Development Program will train 200 underprivileged youth in different courses like Web Designing, Multimedia & Graphic Designing, Social Media Marketing and Accounting & Book Keeping.

IBA Karachi organized an Orientation ceremony for the batch of 2017-2018 on Saturday, November 18, 2017 at JS Auditorium at IBA City Campus.

Dr. Saeed Ghani Acting Dean & Director IBA and Mr. Imran Batada Director ICT & CICT IBA Karachi, Mr. Zulfiqar Ahmed Cheema Executive Director NAVTTC, Mr. Abdul Rahim Shaikh Director General NAVTTC, and other guests from different regional institutes participated in the event.


On the occasion, Mr. Imran Batada - Director ICT & CICT congratulated the candidates who will be undergoing the training and highlighted that this Program will prove to be a life changing experience for them. He elaborated that after the culmination of the course, the candidates will be better equipped for the job market.
Chairman NAVTTC, Mr. Zulfiqar Ahmed Cheema felicitated the IBA Centre of Information & Communication Technology on extending their support and informed the audience that skills being taught during the training are market-driven and will prove beneficial to candidates' employability.
Print Media Coverage
Pakistan Observer:
https://pakobserver.net/iba-navttc-orientation-ceremony/
Roznama Express
https://www.express.com.pk/epaper/PoPupwindow.aspx?newsID=1104746252&Issue=NP_KHI&Date=20171119
https://www.express.com.pk/epaper/PoPupwindow.aspx?newsID=1104746249&Issue=NP_KHI&Date=20171119