DICE INVENT 2014

IBA Karachi Demonstrates Resilience and Progression by Gathering the Nation's Brightest Young Entrepreneurs on One Platform

Karachi, December 19-20, 2014: IBA Karachi in collaboration with AMAN Centre for Entrepreneurship (CED), IBA hosted DICE-INVENT 2014, a two-day Innovative, Entrepreneurship Exhibition, Competition and Mega event at IBA main campus. Renowned International & local Entrepreneurs and faculties not only attended the event to promote entrepreneurship in Pakistan but also inspired the students and also meticulously judged the numerous, spectacular entrepreneur initiatives. Participants, who attended from various universities from all over Pakistan, availed a great opportunity to showcase their talent, gain confidence and build social networks, nationally & internationally. This one of a kind endeavor will help promote an eco-system of entrepreneurship in Pakistan. The main sponsors of the event were DICE, British Council, ISESCO and PCST.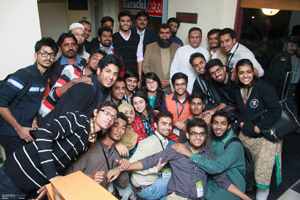 DICE INVENT, one of the largest business plan competitions in Pakistan, the aim of which is to encourage ethical and sustainable entrepreneurial ventures among students across the country; took place days after the recent national tragedy of the heinous terrorist attack on Army School, Peshawar. Therefore the successful conduction of this entrepreneurial event is proof of the resilience, courage and progression of our nation, in the face of even the worst adversity.

Addressing the audience, Chief Guest, Dr. Shamshad Akhtar Exec. Director ESCAP (Former Governor Central Bank of Pakistan) said, 'IBA's programs are in league with the Asia Pacific region as well as the global standards and IBA is on the right track as far as entrepreneurship is concerned, entrepreneurship needs to be ignited as it creates jobs and brings news goods and technologies to the market. I congratulate IBA for holding this event and hopefully in the future, we'll have IBA collaborating with UN ESCAP (United Nations Economic and Social Commission for Asia and the Pacific) and we'll have experts from China, Korea and US coming in to train people here.' The main speakers of the event were Dr. Khurshid Chairman DICE foundation, Dr. Mudassir Israr Chairman PCST, Dr. Abbas Sadri Regional Director ISESCO & Dr. Ishrat, Dean & Director IBA. Also more than 30 faculty members and foreign guests attended and participated in discussions on entrepreneurship. Also GEM (Global Entrepreneurship Monitor) Pakistan report was launched by Professor Sarfraz Mian from State University New York (SUNY), who presented the research findings on day two of the event.

Above 300 students from various universities of Pakistan participated whole heartedly in this major entrepreneur event. The competition was in four different categories: Group A: Engineering and Technology, Group B: Computer Sciences and Information Technology, Group C: Arts & Humanities, Business and Social Sciences & Group D: Miscellaneous (Women Entrepreneurs, Medical, Physical, Natural, Agriculture Sciences etc.). After a rigorous round of selection, from 137 teams, 19 teams were shortlisted for final presentation in front of a panel of judges, which consisted of renowned faculty members from a myriad of prestigious institutions.

Innovative products such as solar vehicles, pomegranate biscuits, wild herbs, a scorpion venom farm, magic box and fabric that changes according to the temperature were presented to the judges.

After careful consideration by the judging panel and amidst much jubilation, the winners were announced as following:

Group A, Engineering and Technology:

1. 1st Position (tie): PC Based Eddy Current Nondestructive Testing System, PNEC-NUST, Karachi & Power Up, University of Management & Technology, Lahore.
2. 2nd Position: Moskill, University of Malakand, Malakand.

Group B, Computer Sciences and Information Technology:

1. 1st Position: Pakistan Learning Network, IBA Karachi.
2. 2nd Postion: Daakhla.com, COMSATS.
3. 3rd Position: iCarriage, Virtual University of Pakistan, Karachi.

Group C, Arts & Humanities, Business and Social Sciences:

1. 1st Position: Wild Herbs, University of Malakand.
2. 2nd Position: Freezo Pakistan, Preston University, Islamabad.
3. 3rd Position (tie): Kunayah, NED Karachi & Peanut Butter Oatmeal Cookies, University of Agriculture Faisalabad.

Group D, Miscellaneous (Women Entrepreneurs, Medical, Physical, Natural, Agriculture Sciences etc.)

1. 1st Position: Fruit Leather, University of Agriculture Faisalabad
2. 2nd Position: Almani Quail Farm, Karachi Institute of Economics & Technology
3. 3rd Position (tie): Scorpio Farm, Preston University & Pomegranate Peel Extract Based Cookies, Bahauddin Zakariya University, Multan.

The prize money was as follows:

1. 1st Position: Rs.75,000
2. 2nd Position: Rs.50,000
3. 3rd Position: Rs.25,000

Bringing this progressive entrepreneurship event to its conclusion, Vice Admiral Arif Ullah Hussaini said, 'War is ugly and entrepreneurship is beautiful. But both involve risks and the concept of taking calculated risks are crucial to both but where war causes destruction, entrepreneurship brings hope and stabilizes the economy of a country so say yes to entrepreneurship and NO to war!.'

About INVENT: Startup Today Enterprise Tomorrow

Invent is a nation-wide Entrepreneurial Challenge started in 2010 by IBA Karachi. IBA's Center for Entrepreneurial Development (IBA-CED) Karachi came up with a unique entrepreneurship program to inculcate entrepreneurial mindset amongst the university going Pakistani youth. Since the number of engineering colleges and universities have been increasing rapidly it was decided to harness and integrate innovation coming out of the engineering schools with the entrepreneurial journey that the INVENT has been teaching in order to provide potential entrepreneurs a platform where they could create startups that would eventually lead to innovative solutions for the society. This program has become one of the largest nationwide events carried out every year all across the country. Invent in a short span of four years has become one the LEADING STUDENT LEVEL BUSINESS PLAN COMPETITIONS OF PAKISTAN. Invent introduced a number of revolutionary and unique concepts, such as extensive training and mentoring by industry experts, having multi-university and multi-disciplinary teams and has broken a number of myths such as that Business plan competitions are for business majors only. This is the reason that it received overwhelming response last year from all quarters with over 300 ideas proposed by over 2000 students registered from around 135 participating universities.

This year's Invent 2014 has been merged into DICE-INVENT 2014 Innovation & Entrepreneurship Mega Event.

About DICE-INVENT 2014

Combining the visions of IBA and DICE Foundation has led to creating synergy through Innovation and Entrepreneurship. Innovation promotion will lead to a culture of new ideas, methods, processes, and business models followed by the entrepreneurial journey of opportunity recognition, evaluation, customer acquisition and growing the organization. With the combination of innovation and entrepreneurship along with the resultant synergy that is thus created can help to establish an ecosystem in the country which can help reap the citizen's not just economic benefits but will also benefit the society at large by creating entrepreneurs that are socially, ethically and environmentally aware.