Guest Speaker Session on Measuring "Lump in your audience throat" by Mr. Noaman Asar

To enhance the understanding of students with real-time industry practices and innovative approaches in the field of advertising and branding, IBA Karachi organized a guest speaker session with Mr. Noaman Asar; Country Manager Millward Brown, for Marketing Management, Advertising and Brand management students. Mr. Noaman Asar is an IBA alumnus and has 18 years of vast experience in diverse sectors including FMCG, Media, Advertising and Research in Pakistan, United Arab Emirates and Saudi Arabia. Before joining Millward Brown, he has worked with P&G, Al Ghauraia Foods, Food & Fine Pastries, Dawn News and Oasis International. Noaman started his journey with Millward Brown Pakistan as its first Country Manager in July 2014.
Millward Brown is a leading global research agency specializing in advertising effectiveness, strategic communication, media and brand equity research. Millward Brown helps clients grow great brands through comprehensive research-based qualitative and quantitative solutions. Millward Brown operates in more than 55 countries and is part of Kantar, WPP's data investment management division. It helps define brand purpose, develop winning advertising, engage consumers, and drive brand growth.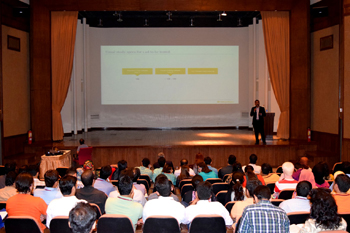 Under the supervision of Professor Ms. Alia Hasan and Professor Mr. Jami Moiz, advertising class organized the session in Ghani & Tayyab Auditorium on 6th November 2015. The session revolves around the application of neuroscience and cognitive psychology for customer response evaluation regarding advertising. He insightfully discussed combination of knowledge, action and emotion that should be addressed through a brand and its advertisement. Noaman shared theoretical approaches and exemplified their work through screening various advertisements followed up with interactive brainstorming discussions with students. He further explained the technologies and techniques used worldwide for indirect insight measurements for understanding the response of viewers. This includes brain canning, brainwave measurement, autonomic arousal, eye tracking, facial coding, and implicit association measurement marketing and brands based upon neuroscience, physiology, and cognitive psychology. Mr. Noaman briefly discussed the challenges in terms of engagement, association, and brand disposition and shared Millward Brown's practices to help their clients in mitigating those challenges, building successful brand communication strategy and enhancing advertising effectiveness.
The session was extremely informative and students highly appreciated the insightful knowledge and modern practices of advertising industry shared by Mr. Naoman. Many students enthusiastically shared their inspired interest in advertising and brand management after this session.