Dr. Sayeed Ghani Appointed as the Acting Dean & Director of IBA Karachi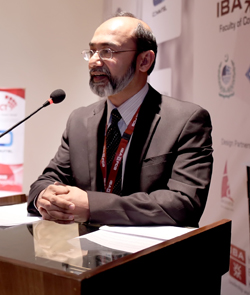 We are pleased to inform all faculty/ staff and students of IBA that the IBA Board of Governors in its meeting held on March 9, 2016 has nominated Dr. Sayeed Ghani, Associate Professor and Associate Dean — Faculty Computer Sciences, IBA as Acting Dean and Director IBA until the Government announces IBA's new Dean and Director.
We take this opportunity to thank Dr. Ishrat Husain, the outgoing Dean and Director IBA, for the invaluable contributions he has made towards IBA's journey towards excellence during his tenure. His strategic vision, corporate outreach and student-oriented policies have breathed new life into IBA. We were indeed very fortunate to have a person of such high caliber and character at IBA and it's been a privilege and an honor for IBA family to be associated with him.
We welcome Dr. Sayeed Ghani in his new role and wish him success as the Acting Dean & Director of IBA Karachi