Dr. Marcia Hermansen, Director of the Islamic World Studies Program at Loyola University talks to students "Beyond Barelviism"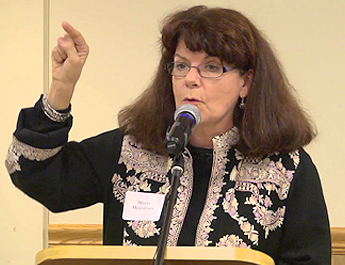 IBA's Social Sciences & Liberal Arts Department welcomed Dr. Marcia Hermansen to give her insights on Pakistan Sufism in the light of trends in the Global system in a talk titled "Beyond Barelviism."
Dr. Marcia Hermansen is the Director of the Islamic World Studies Program and a Professor at the Theology Department in Loyola University, Chicago. She teaches courses in Islamic Studies and the academic study of religion and has received her Ph. D. from the University of Chicago in Arabic and Islamic Studies. In the course of her research and language training she lived for extended periods in Egypt, Jordan, India, Iran, Turkey and Pakistan and she conducts research in Arabic, Persian, Turkish and Urdu as well as other major European languages.
In her lecture, Professor Hermansen considered trends in global Sufism that have emerged in recent decades, which embody a shift from tariqa-based Sufism to Sufism as "Traditional Islam." She examined recent examples of Pakistani Sufis who engage both a global and local audience, analyzing the ways in which they are responding to these new global trends. She went on to mention Dr. Tahir ul Qadri and praised him for being the only Muslim who wrote an extensive work against violence/terrorism.
Later on, Dr. Hermansen talked about Adab & Ihsan (Literature & Beauty) in the same basket which intrigued the students studying social sciences. Wrapping her talk up, she used a term "AuthentiFIQHation" which defines modern and post modern understanding of what religion should be and that left the audience in a state of awe. Dr. Framji Minwalla, Chairperson Social Sciences, concluded the session as he presented a token of appreciation to the speaker.
To Read More About Dr. Marcia Hermansen's work you can visit:
Profile: http://homepages.luc.edu/~mherman/