Certificate In Entrepreneurship

It is our immense pleasure to announce that the first batch of the Certificate in Entrepreneurship Program (CIE) has completed. CIE is a new initiative by IBA-Aman CED that was launched in January 2015. This was a weekend certificate program focusing on motivating the participants to think like entrepreneurs and to inspire them to start their own businesses after completion of the certification. Majority of the participants were full time employee in different industries, with on the average of seven years of experience.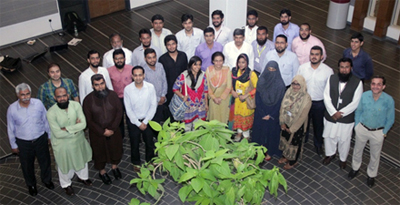 In the final class the participants had to present their prospected business ideas while including all major aspects of what they learned from this course. The results were outstanding as the knowledge they mustered from this course was very well applied in their presentation, allowing the participants to feel more confident about their ideas.
We are also humbled to know that most of the participants now consider initiating their own business as entrepreneurs. This overwhelming response have now further put pressure on IBA-Aman CED to improve and take the things a step further. Thanks to this batch, we can now proudly look forward towards the announcement of Certificate in Entrepreneurship Fall 2015 program, starting from September 2015.
The CED faculty panel that evaluated the presentations consisted of Dr Shahid Qureshi - Program Director CED, Dr Imran Khan, Mr. Asif Jafer and Mr. Kamran Mumtaz. We are grateful to the aforementioned faculty members for gracing the event with their presence and providing their valuable input. It was due to them that we experienced a new presentation concept of 'Open Air Rocket Pitch'. In which the presentations were taken randomly, in open air, outside the class and building. Which enabled the participants to relax and think deeper about their venture. Previously IBA-Aman CED had introduced couple of new concepts which gained much popularity i.e. introduction of Aerobics in Entrepreneurship classes and Live Crowdfunding Event.
After the presentations ended, the participants joyously moved for the photography session, and afterwards to the farewell dinner. We were baffled to observe a friendly bond present among the candidates which was not that visible during the regular span of the course. We hope that this newly formed connection between them would aid them towards success in the coming future. The participants found this to be an extremely useful program and gave us a positive feedback urging that such programs should take place more frequently.