Annual Umrah Draw 2017

October 4: Annual Umrah Draw 2017 was held at the Alumni Student Center, Main Campus. The event was well attended by the enthusiastic IBA family.

The upper floor of the Alumni Student Center was decorated for the event. Dean & Director IBA Dr. Farrukh Iqbal, Acting Head HR Mr. Jami Moiz and Mr. Aamer Shabbir General Manager Administration, Dr. Zeenat Ismail Head of NTHP, Imran Batada Director ICT, Mr. Moeid Sultan, Director Finance, Malahat Awan the Head of Alumni Relations and Communications, Mr. Abdul Wajid, Head of Examination, Mr. Raees Ahmed Khan, Manager Examination, Mr. Kazi Mazhar, Assistant Manager Transport, Syed Rizwan Rizvi, Senior Manager Admin among others attended the event.

The event commenced with the recitation of the Holy Quran. Following that Mr. Jami Moiz addressed the audience and said that the Umrah Draw scheme was initiated in 2015 at the IBA and that the institute plans to continue this incentive as the feedback from the IBA team was very heartening.

Taking the stage, Dean & Director Dr. Farrukh Iqbal addressed the audience and highlighted the importance of such initaitives. He also stated that efforts were being made to give every employee an equal opportunity to be included in the draw. Dr. Farrukh also announced that this year a separate draw for women had been arranged due to the fact that their strength in numbers was less than the male staff. He also announced a relaxation in the eligibility criteria for IBA welfare loans; the eligible salary range of Rs. 60,000 has now increased to Rs. 100,000, to assist the IBA staff.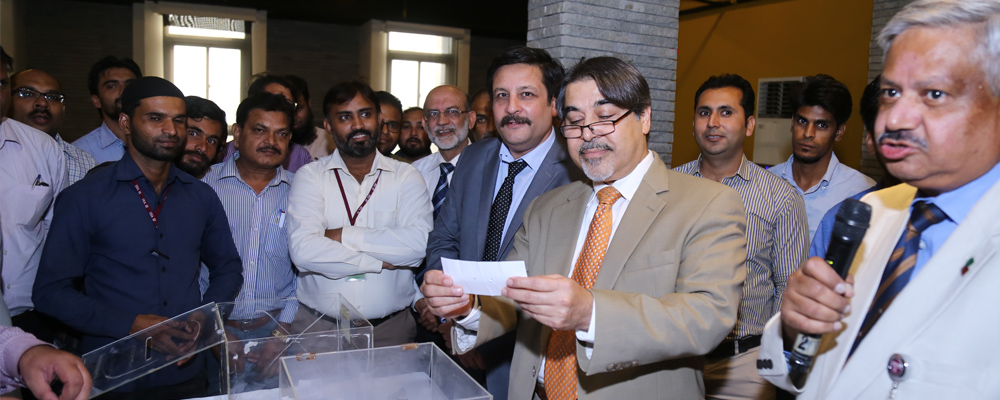 Amidst much anticipation, Dr. Farrukh Iqbal proceeded to the ballot boxes and drew out the names of the lucky winners.
The winners of the Annual Umrah Draw 2017 draw were as following:
Ms. Sumera Muhammad - Manager SDP
Mr. Mansoor Ali khan - Senior Executive Examination
Dr. Rameez Khalid - Assistant Professor, Department of Management
Mr. Amjad Masih - Housekeeping Department
The lucky winners were congratulated by the staff present at the occasion. The male winners were given an Ahram set and the female winner was given a bouquet. The event ended on a happy note with tea and refreshments for the attendees.
The IBA congratulates all the lucky winners and wishes them a safe, spiritual Umrah journey.