Advertising: Radio FM 107 CEO visits IBA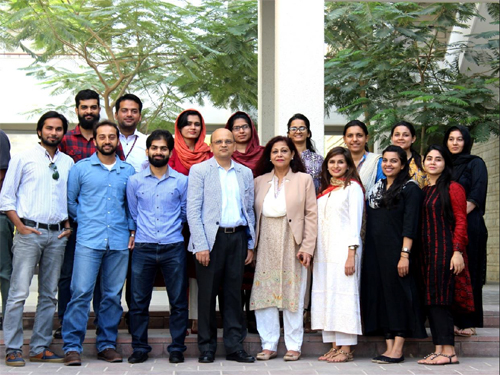 Advertising, as a course, has its relevance more to practical learning than just theoretical classroom based learning. In order to cater to this aspect of learning, Professor Alia Hassan has helped the MBA class to get exposed to maximum aspects of the real world of Advertising and Marketing by inviting several guest speakers in class to share their experiences and field knowledge. In this respect, there were several guest speakers invited, the recent being a CEO from Radio 107, Mr. Mehdi Raza. This session was held on 20th October, 2015 at IBA Main Campus.

Apna Karachi FM 107 is a radio station which holds the No. 1 position amongst all stations in Karachi. Their tagline is 'Ham Hain Karachi ki Awaz'.

The guest speaker has a diversified Marketing, Advertising and Media experience. Mr. Mehdi Raza started his career with Interflow/Ogilvy in 1990 and has since gathered extensive experience of 25 years. He has lead TV channels like Prime TV as Director Marketing and left it in 2003 to start his own venture into FM Radio business as CEO and partner.

Pakistan. Also, with the cell phones having inbuilt radio, the growth has increased dramatically as the access to it has become much easier.

The presentation started in a very interesting manner when Mr. Mehdi played several audio recordings with different sounds that we hear in our daily lives. He then relates these sounds to the importance of radio as radio is a source of listening only. Moreover, he shared some statistical figures through which he showed how radio has more benefits than TV and online entertainment sources. The main reason for its success is that it can be heard in remote areas which do not have access to electricity, cable connections or internet connections and may not even afford all these luxuries.

He proceeded with the presentation by sharing some historical facts about how the use of radio has increased over the years globally and how it is growing in With regards to the future of radio, Mr. Mehdi stated that online is the future for radio where interaction, accessibility and revenue streams will have an incremental affect.

The session, overall, was very interactive where Mr. Mehdi enthusiastically responded to participant queries. Through this session, we were exposed to the radio history, business, advantages and challenges and its future prospects. We are highly obliged to Mr. Mehdi for sharing his experiences with us and wish him success in all his future endeavors.

The writer of this article is Ms. Arooba Siddiqui. She is a student of MBA-M.