Workshop on Business Model Generation organized by IBA-CED

IBA-CED organized two-day workshop on "Business Model Generation" on 28th and 29th August, 2015. This workshop was based on interactive sessions which included Team activities, Group discussions, Case analysis, Presentations and Critical thinking exercises.
During the course of two days following topics were under discussion:
- Business Model Generation dynamics related to consumer and business products.
- Applying business model design techniques to innovations.
- Evaluating different business models in terms of their strengths and weaknesses.
- Constructing different business models using canvas approach.
- Utilizing practical branding concepts for marketing new products and repositioning old ones.
- Applying Blue Ocean Strategy to create optimal business model design.
- Thinking creatively to formulate business models of the future.
- Positioning business model effectively through customer centricity and user profiling.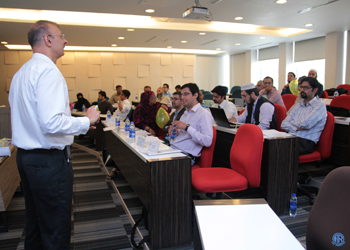 Twenty three participants from different organizations and universities attended this workshop. Following were the organizations which sent their staff for BMG Workshop:
I) Al-Meezan Investment Management Ltd
II) Atlas-Honda
III) Mobilink
IV) Dimensions
V) S-Cube Communications
VI) Macter International
VII) IBA, Karachi
VIII) Sukkur IBA
IX) UET Taxila
X) GIK Institute
XI) Karachi University
Trainer for this workshop was Dr. Khurram Jahangir Sharif. Following is his profile:
Dr. Khurram Sharif graduated as an Electronics Engineer from University of Kent at Canterbury, England. He did his MBA from Lancaster University and his PhD (in Business-to-Business Marketing) from Kingston University, England.
Currently he divides his time between a marketing faculty position at Qatar University and supporting Innovation Design Centre at Qatar Science & Technology park (QSTP). He has worked with a number of public and private organizations in the Gulf Cooperation Council (GCC), South East Asian and European regions. His clients have come from companies within healthcare, telecommunications, education and oil and gas sectors.
More recently his training and research interests have been focused on 'Innovation and Efficient Marketing'. He is serving as a member of the Editorial Board of International Journal of Innovation and Business Strategies (IJIBS).
He likes 'action research' and 'experiential training' where he involves himself and participants in the knowledge creation and learning process.