Workshop on "Values Based Leadership and Motivation"

May 3, 2015: IBA CED organized a very interesting and learning workshop on "Values Based Leadership and Motivation" delivered by Syed Hussain Haider, Director, Akhuwat Institute of Social Enterprise and Management/ Project Director, Akhuwat University; for the students of IBA-CED & STHP, Karachi. The session was attended by Dr. Shahid Qureshi, Director, CED, IBA, Karachi and Prof Dr. Zeenat Ismail, Director, STHP, NTHP and more than 70 students.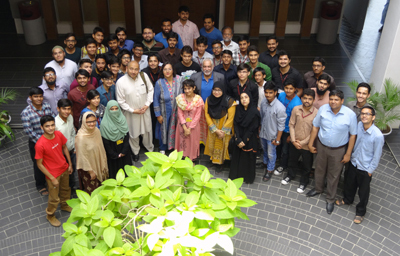 Syed Hussain Haider's life struggles was what grasped the attention of the audience. He convinced all that leadership and motivation is all about understanding oneself and struggle constantly to build oneself up. He did BA while worrying about gathering the money to pay for it. Attained MBA from an institute which is no longer recognized. According to him such achievements doesn't matter if you have learned nothing out of it, which is why one must discover a will within in order to succeed.
Syed Hussain Haider's humble appearance, gratefulness to Allah, his experience, audibility and slight humor made the audience understand that leadership does not come through authority, right and power but by sense of responsibility and inspiring the followers through character which is an innovation itself.
The session was followed by an intensive Q & A session. At the end of the session a memento was presented to Syed Hussain Haider by Prof Dr. Zeenat Ismail.