Tsinghua Summer Program - Testimonial

Being nominated by IBA for the two-week Tsinghua PBCSF Summer Program named 'Financial Leaders of Tomorrow 2015', was a great Honor. And I was also awarded with a scholarship for this Program by Tsinghua University School of Finance. This program offered financial lectures for the attendees to comprehensively understand China's financial markets; topics included Stock Markets, E-Commerce and Insurance Industry too. I was among the 60 students selected from leading universities and colleges around the world. Study trips to financial institutions were arranged to give us first-hand information regarding how markets function in China and how China's unique business environment has influenced the financial industry. We also had the opportunity to explore the nation's capital and visit various cultural sites. It definitely was a great learning experience and I would like to thank IBA for providing us with such opportunities.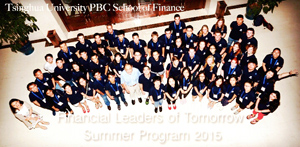 Program name: Financial Leaders of Tomorrow 2015
Dates: 28th June – 11th July
Venue: PBC School of Finance, Tsinghua University. Beijing.
Ms. Ramsha Khan