A trip to Karachi Foods for Iftar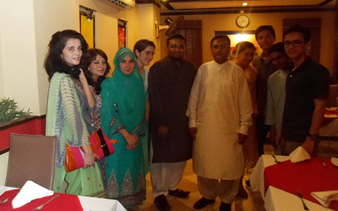 On July 3, 2015, Dr. Shahid Qureshi –Program Director CED & Assistant Professor –Management Department have invited Syed Mahmood Ali – Director Operations (Karachi Foods) as a guest speaker in his workshop for the NTHP students of Batch 2015. Mr. Syed Mahmood Ali had a very impressive and a touching story. He gave us his account of success in life and told us that we should never quit and work hard not matter how tough are the circumstances. We [NTHP scholars] listened to him with profound concentration. We absorbed every word of wisdom he shared with us. At the end of his presentation he invited us all to have an Iftaar-cum-Dinner with him in his very own restaurant located at the Shahra-e-Faisal.
Syed Rizwan Ali Bukhari took the responsibility for our travel. His efforts enabled us to have one of the best dinner of our lives. The food was scrumptious. The delicious Haleem and the savory Biryani is worth a million words of appreciation. We enjoyed ourselves and added happy moments to our timelines. We also had a group photo with the host and then one of our peers, M. Hamza Khattak, on our behalf thanked Mr. Syed Mahmood Ali for being such a gracious host.
We thank the National Talent Hunt Program [NTHP] officials for their best effort in making our stay comfortable and memorable.