Talk by Dr. Boivin, Senior Researcher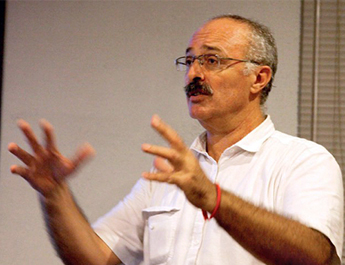 CASE STUDY ON HISTORICAL ANTHROPOLOGY
Dr. Boivin, Senior Researcher at the National Centre of Scientific Research (CNRS) and a member of the Centre of South Asian Studies (CEIAS) visited IBA on 28th May 2015 to talk about "The Former Princely State of Khaipur:"
Dr. Boivin said that the province of Sindh, Pakistan is culturally enriched with components of tremendous historical background. Sindh highlights the glory of the Sindhi civilization, commonly known as Indus civilization. Dr. Broivin further continued his discussion with the history of Khairpur before and even after partition. The origins of the state date back to the disputes over the succession to the leadership of the clan, following the murder of its chief, Mir Bahram Khan in 1775.
Furthermore, Dr. Boivin discussed his new research project entitled "Sehwan Project, an interdisciplinary approach to the mausoleums of Sehwan Sharif (Sindh, Pakistan)". The Project is dedicated towards those mausoleums of Pakistan where Sufi traditions are found. He further said that although there are some recent anthropological works, the cultural expression of Sufism has not been studied in details however; it is most of the time linked to Islamic fundamentalism. Sufism nevertheless permeates Pakistani society in the rural milieu, and also, with renewed shapes, in urban milieu. For this reason, Sehwan Project would be the first broader program which would focus, in a scientific perspective, on the artistic and cultural expressions of Sufism. The town of Sehwan Sharif has been chosen as the first topic because of two main reasons. First, a French archaeological team worked there every year for six years. Second, Sehwan can be seen as a metaphor in relation with the role played by Sufism in Pakistani society.
The information was mainly collected through primary resources. Dr. Boivin also shared his experience of his visit to Sehwan and his interaction with people there. This gave him first-hand knowledge about different territories, groups, and social organization at Sehwan.
Overall, the session was enjoyed by students who prefer to choose their career in social sciences research.